We tried new seasonal fast food dishes, and this one is the best – Eat This, Not That
Tis the season for indulging, that's how they say, isn't it? The bells are ringing, the kids are singing, and if you choose to celebrate the holidays with a heavy calorie intake, we're not here to judge.
Apparently neither does the fast food industry. As is more or less a festive tradition at this point, fast food chains large and small have released their specialty holiday menu items. The specifics of these limited-time offers vary, but they all have one thing in common: sugar. Many.
Desperately drawn to the cheery marketing promotions and the way anything with red and green glitter seems to guarantee joy, I decided to make it official with this season's holiday treats and tasted the best of the best. from the 2021 range. I present to you a ranking of the most cheerful menu items currently on the market.
For more, check out We Tasted Every McDonald's Dessert and This Is the Best One.
Shake Shack's Christmas Cookie Shake is about the garlands, not the taste. Festively shaped red and green sprinkles give an eye-catching look, and when they inevitably fall into the shake, they add a bit of crunch. However, that occasional texture isn't enough to bring this shake higher in the rankings. It's absolutely decadent and very seemingly made with heavy cream, but bordering on being too sweet even for a holiday treat.
RELATED: Don't Forget To Subscribe to our newsletter to get the latest restaurant news straight to your inbox.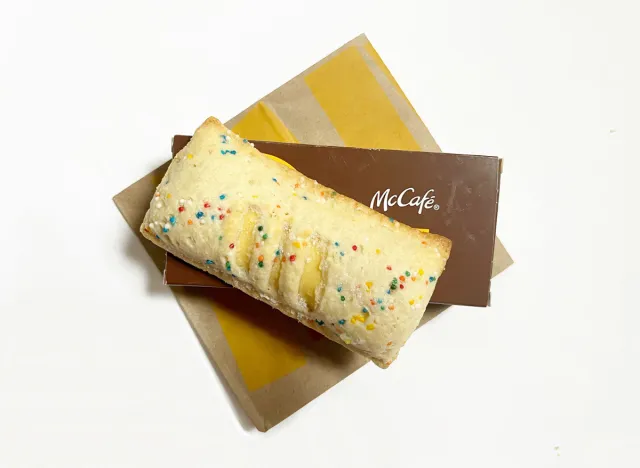 People love holiday pie. Every year when Mickey D's rolls it out, fanfare ensues. I was excited to get a taste of what the hype was, and on some level, I understand. Whatever the flavor, it's fun to order this rainbow-dusted specialty. However, when it comes to rating the cake itself, I have to be honest, it's just mediocre. From the outside, it's great: the pie crust smells exactly like sugar cookie and is deliciously crispy. But by the time you get to the cream, you might be disappointed. It's bland and has a questionable texture that's more slimy than anything else. There is also a slightly bitter aftertaste. My opinion ? Eat it for the pie crust, but skip the filling.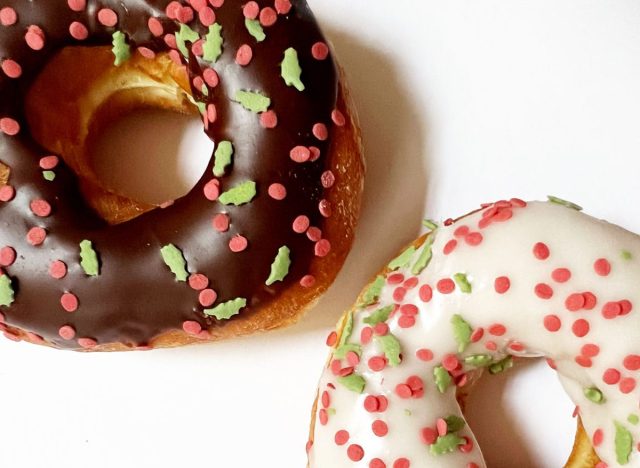 Christmas is definitely a time for classics, and there's perhaps nothing more classic than a glazed, sprinkled donut. Dunkin' releases a version of these bad boys every year, and as they always do, they're perfectly predictable and good. The frosting is just thick enough, the sprinkles are scattered around to provide the perfect level of crunch, and the donut itself is doughy and light. The Holly Berry Donut lands squarely in the middle of my roundup because while it's reliable and solid, it's not the most innovative.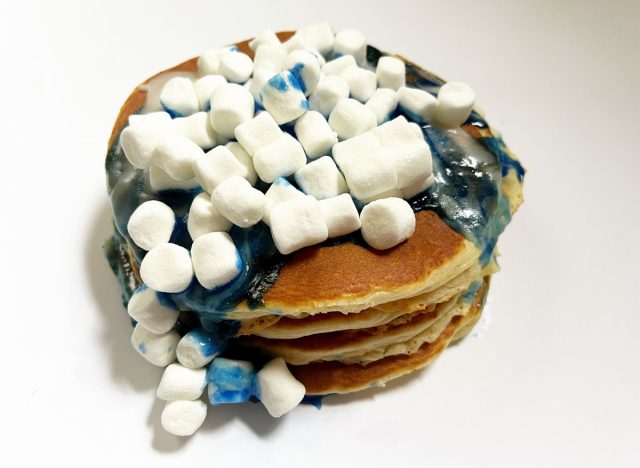 Speaking of interesting, these pancakes might be as interesting as it gets. Blue icing and marshmallows on a stack of pancakes? Looks like the brainchild of Buddy the Elf himself. That's why I was surprised how delicious they were. The overall flavor here is, obviously, sweet. Marshmallows are an interesting texture to pair with pancakes – lots of fluff, but somehow it works. The blue frosting has a tangy taste that surprised me in the best possible way, and even though ultimately this stack is absurdly sticky and sweet, I would definitely order again.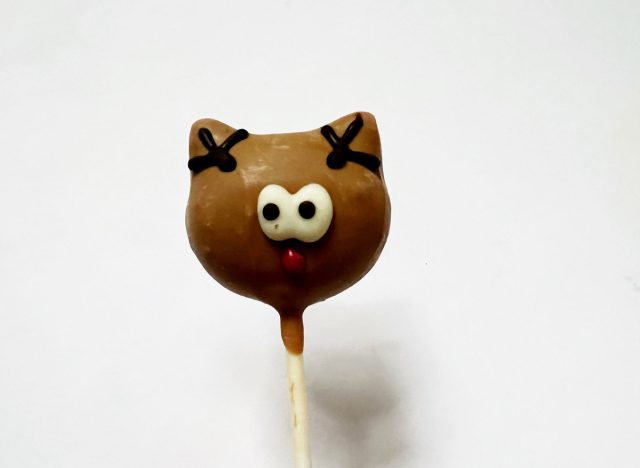 Here it is, the number one holiday treat of the season. And honestly, look at it: would you expect less than first place for this adorable little cake pop? Looks aside, Starbucks really nailed this one. The ratio of chocolate frosting to vanilla cake is just right, and you get some texture from the harder frosting used for the eyes and nose. The downside, of course, is that this reindeer pop is so precious it looks almost inhumane to eat. However, when you dig in, it's worth every bite.
For more, check out the 108 most popular sodas ranked by how toxic they are.