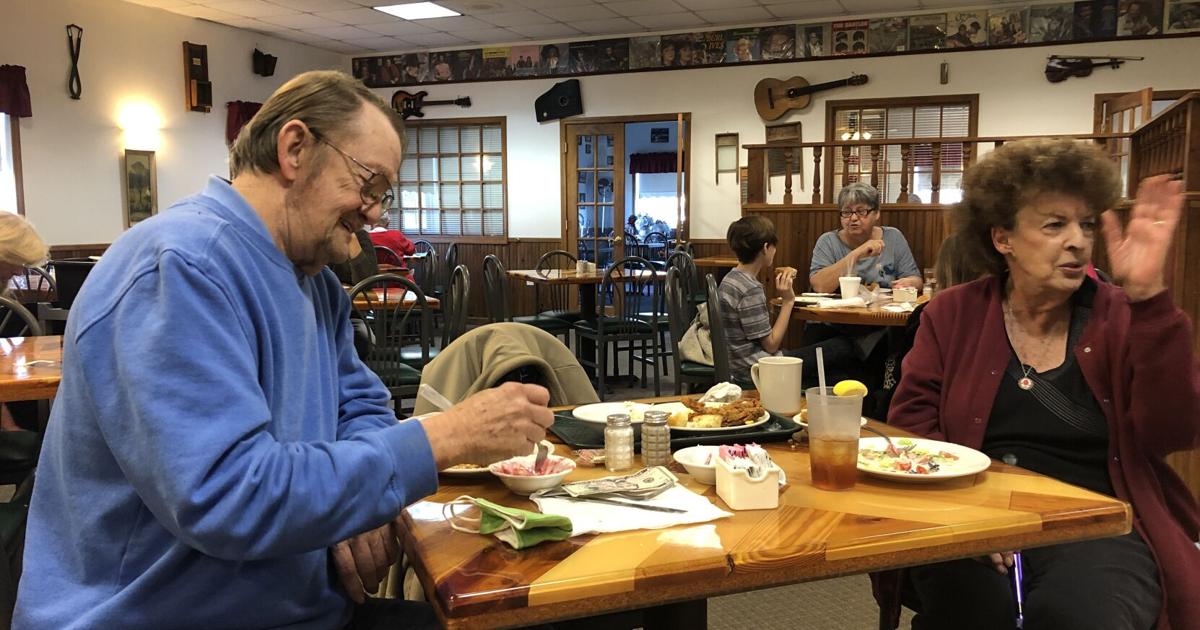 Watch Now: Mama's House Buffet Closing January 31 | Business
KINGSPORT — Scott and Brenda Sandidge of Church Hill will soon be trying to find another place to eat buffet-style country food.
Sharlene and Jerry Spaulding of Surgoinsville will miss the green onions from the salad bar and the chicken livers.
And six members of the extended Sells, Longworth and Herring families of Kingsport and Gray will have to find another place to have their usual Sunday meal.
In a move that owners Angela and Michael Vaughn attributed to COVID-19, Mama's House Buffet, 2608 N. John B. Dennis Highway, will permanently close on Monday, Jan. 31. The restaurant announced the news Friday on Facebook.
Depending on what the buyer wants to do with the building, the Vaughns said decorative items ranging from old musical instruments and albums to farm tools and a hand-cranked magneto wall phone and kitchen equipment can go with the structure or be sold separately.
A few items are loaned out and will be picked up by their owners, and some family photos the Vaughns will take.
NOT ALWAYS MAMA'S HOUSE
The company's history dates back to at least the 1970s, and the restaurants were called King's Table, then Buffet Royale in the former King's Giant Plaza on Stone Drive, where HMG is located today.
The Vaughns purchased the business in April 2016 after the original owner passed away.
"2019 started off really good, then COVID hit in 2020," Angela said.
The business closed until it reopened in May of that year, but had problems with customers not coming in for in-person or take-out meals, as well as having enough employees. Aid Vaughns was unable to fill the positions of two employees who recently retired, even though one of them returned to work on Saturday to help.
"People just aren't going out now because of COVID," Angela said.
The restaurant initially reopened with a cafeteria-style line, where employees served customers instead of customers serving themselves, but it returned to the traditional buffet as the initial wave of COVID dictated.
Mama's House also tried a non-buffet offering that included sandwiches, but Angela said that never really appealed to customers. She said she and her husband thought buffets were becoming like dinosaurs.
In Kingsport, Golden Corral operates a full-time take-out buffet, while Pratt's offers a select day. Chinese restaurants Kingsport China Wok, China Star and Ming Garden offer buffets, with Ming and China Star all buffet-style, but China Wok offers a menu for plated meals. Fish fast food restaurants Long John Silvers and Captain D's used to offer buffets. Shoney's also offers a buffet and set menu, although the closest locations are in Johnson City and Abingdon.
LONG TIME CUSTOMERS MISS THE RESTAURANT
Sandidge, as he finished a meal with his wife on Saturday afternoon, said the couple had been eating at or before the restaurant since around 1971.
"She saw it on someone's note on Facebook," Sandidge, 81, said of how the couple first learned of the closure. "We've enjoyed it for years, variety."
She said, "I like coleslaw and chicken." He said they like to eat at the Country Kitchen in Surgoinsville, which is not a buffet but offers country cuisine.
The Spauldings, who dined early on Saturday, said they used to eat at Mama's House twice a week when he had doctor's appointments, but he hasn't had as many lately time.
"I go for the scallions," said Sharlene Spaulding, while her husband Jerry added, "The scallions, salad, friend chicken thighs, chicken livers, bread pudding and potatoes browned."
Meanwhile, Debbie Sells, Junior Longworth, 6, Gay Shelter and Virginia Herring, all from Kingsport, and Terri Herring and husband James of Gray will have to find a new place for their Sunday meal, despite having eaten there this time on Saturday.
"I like chicken and strawberries," Sells said at lunch.
Longworth said, "I like cake and apple pie, and I like strawberries and ice cream together and just strawberries and just ice cream and beans and chicken thighs."
Samantha East, a nearby employee who runs the cash register, said the young man was known to like fried chicken legs and extended family used to come and sing gospel once at the restaurant.
Additionally, Angela said high school reunions for Ketron High, where she attended her freshman year, and other schools have been held there over the years, as well as lunches for the Dobyns-Bennett and Dobyns-Bennett football teams. Sullivan North.
WHAT IS THE FUTURE?
The Vaughns said they plan to sell the building and real estate, but remain in the Kingsport area.
They said the property could be used as a restaurant, but Michael said the dining room is so large it would be difficult to be full service. She said they believe it could be converted and/or extended into an assisted living facility, with a kitchen and dining area ready for use and the rest becoming bedrooms.
"I don't know what we're going to do," Angela. "Michael is really good with food." She said they thought about opening a small restaurant.
Meanwhile, she said a steady stream of customers have left positive comments on Facebook about the business. When Angela goes on vacation, she says, she prefers to eat at local restaurants rather than chains where she can eat most anytime at home.
"I wish more people had thought about it before it came to this," Angela said.
The bottom line, she said, is that the business was no longer economically viable, but it's hard to say goodbye to customers-turned-friends.
Try the Kingsport Times News app today. Download here from Google Play and App Store.