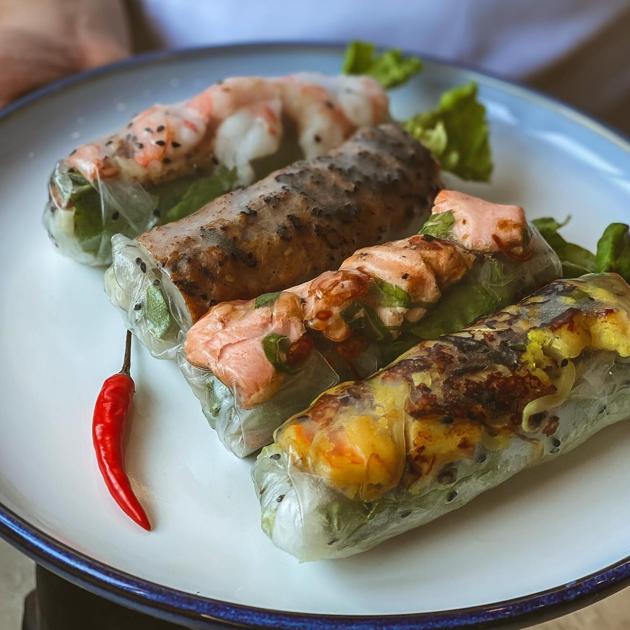 Vietnamese cuisine, coffee to come at 34th and Ella | Food drink
Growing up, Cassie Ghaffar worked in her father's restaurants. In college, she opened the Epic Lounge in Midtown.
Now Ghaffar, who has worked in corporate wealth management and owns a five-location franchise of Amazing Lash Studio, is opening three new food concepts.
Saigon Hustle, which now operates in the Blodgett Food Hall, will open a flagship drive-thru in the remains of the gas station at the corner of West 34th Street and Ella Boulevard, owned by Revive. Next door, in the old laundromat, will be Sunday Press, an all-day café. And on Halloween, Ghaffar will be opening Ginger Kale in the old Pinewood Café in Hermann Park.
For most people, this business can be exhausting, but not for Ghaffar, who says she thrives on an abundance of opportunity.
First, Saigon Hustle is a tribute to its Vietnamese heritage and will feature Vietnamese fast food, served from a drive-thru at 34th and Ella.
"It will be quick service, sandwiches, rice dishes and bowls of vermicelli," Ghaffar said. "We want to provide this convenience to people, but also to make it very authentic and old school. These are family recipes that have been passed down for generations.
Ghaffar told Eater.com that the "fuss" of the restaurant's name was a tribute to his 85-year-old grandmother.
"She had to drive our family (from Vietnam) fast enough for us to get here," she said.
Those who want to get a taste of what's to come at the 34th can visit the location in Blodgett Food Hall's cloud kitchen space in the Third Quarter, where Ghaffar does take-out and deliveries.
Ghaffar said she initially decided to open the cloud kitchen inside the Blodgett Food Hall to hone the drive-thru technique. But because the location has been so successful – and profitable – she plans to keep it open.
She said she chose the 34th row corner location for Saigon Hustle and Sunday Press because it was a booming area with high visibility.
Gin Design Group helps with the design and A La Carte Consulting helps streamline its vision for future expansion.
"The front corner is going to be so cool," Ghaffar said. "There will be seating and a patio."
Sunday Press, Ghaffar's second concept on 34, will be the first to begin construction as permits have just been issued. Saigon Hustle will follow three months later.
Sunday Press will also be a drive-thru – like Starbucks with a full menu – with sandwiches, salads and more.
Ghaffar's most immediate plan is to launch Ginger Kale near the Houston Zoo in Hermann Park. The menu offers the sandwiches and salads that rush tourists want, as well as takeout options like chia pudding, overnight oats, acai bowls and fresh juices as well as plenty of seafood. bakery.