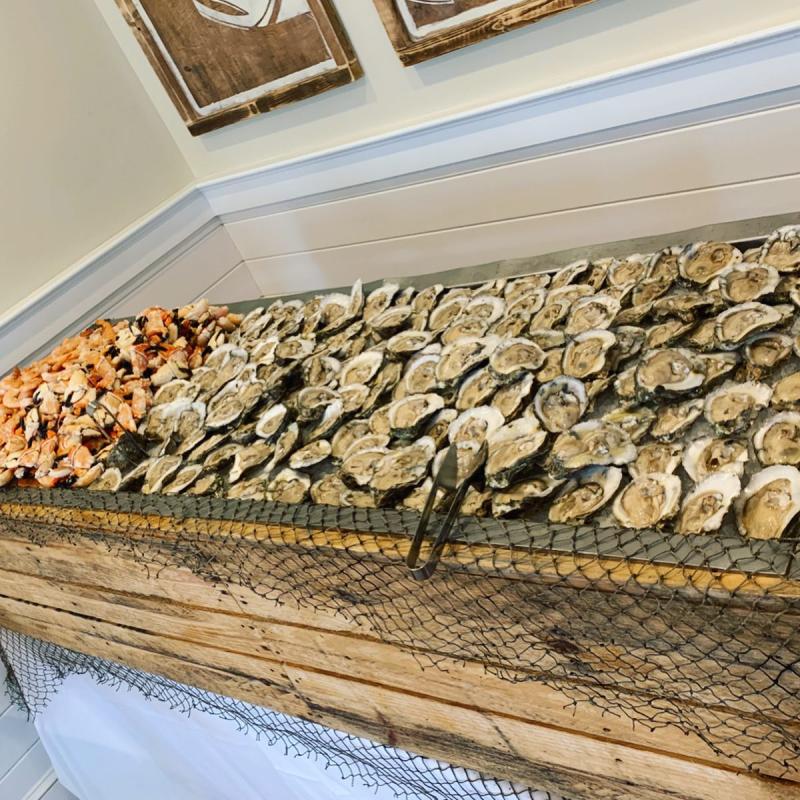 This holiday buffet combines family traditions and new flavors
As I stood in line for the Big Fish Grill Rehoboth's Thanksgiving feast buffet, my internal struggle (Turkey? Ham? Prime rib? All three? Is that plate big enough ?!). The sauce runs out. No more chocolate cake. Almost empty green beans. I turned to see one of the managers of Big Fish Grill intoning the state of the huge buffet into a headset. In fact, much of the staff were wired the same, keeping track of special orders, clearing tables, delivering drinks, and dealing with the crowds at the front door.
The scale of this skillfully orchestrated Thanksgiving chaos is daunting. Over 1,200 hungry guests – each expecting the perfect holiday dinner – were fed by an army of radio-linked employees both in the dining room and in the cavernous kitchens. Let's face it: when a dinner and takeout service requires 700 turkeys, plus 200 pounds of breast meat and 300 pounds of dark meat in one day, someone has to do something right.
These people are Norman and Eric Sugrue. When they were kids, they carried tables, prepared food, and did the heavy lifting at various beach restaurants, including John McDonald's Garden Gourmet, Summer House, and Grotto Pizza. Norman eventually graduated in business, honing his mortgage banking and real estate skills. But his passion for all things food was still simmering on the back burner.
Eric applied his degree in economics and finance at a friend's restaurant in Knoxville, Tenn. His sense of money ultimately earned him a managerial position at a 300-seat restaurant in Rockville, Maryland. But the brothers had their eyes on a decades-old man. crab joint near the canal at Rehoboth Beach. The old Crab House was in need of a complete renovation, so in 1997 they converted it to the Big Fish Grill. The huge restaurant that now adorns this place bears little resemblance to the semi-hut that started it all. The adjacent warehouse contains Big Fish Wholesale Seafood Company and Diamond State Meats. Both supply fresh produce to hundreds of industry customers.
In order to ensure that each guest receives their full load of party goodies, preparation should begin weeks in advance, taking into account delivery times, perishability, and quantity of product. Turkeys enter the ovens on Monday of Thanksgiving week. Remember… there are 700 of them, so even this huge restaurant had to rent equipment to cook them all. When it comes to gravy (300 gallons, to be exact!) Norman doesn't waste the super-tasty caramelized juices on turkey casseroles. He and his team dip about 30 plates into a 60 gallon steam kettle with cream, water, and extra bone-based turkey broth and his own secret blend of spices. (Don't tell Norman, but I know two of them are Rubbed Sage and Big Fish's Exclusive Steak Seasoning.)
Have you ever seen 1,500 pounds of potatoes in one place? It takes as much to make the purees. The obligatory stuffing (or vinaigrette, depending on your preference) begins with 400 cases of prepared and seasoned bread cubes which are sautéed on the spot with butter, celery (lots), onion (hundreds) and Norman dishes – proven spices.
But it's not just about turkeys. Through their association with Delaware's Diamond State Meats, Big Fish Grill also offers cut-to-order prime rib that is trimmed, roasted and then cut in half for the carving station. In another warming dish, the boneless short rib meat begins with richly marbled chuck flanks that are cut into bite-size pieces and slowly cooked overnight with red wine, bay leaves, tomatoes, garlic, onions, celery and carrots. Lots of them… you get the idea.
Applewood smoked hams are sourced from the Neuske Smokehouse in Wisconsin. Why spoil the success; they spice up, dirty and smoke meats since 1933.
When I asked what I was sure BFG's magical cranberry sauce style would be, Norman laughed. Yes, he actually has a tasty recipe that includes oranges, spices, juices, mashed cranberries and all that good stuff. He proudly prepared it for their first buffet several years ago – and he had nothing but complaints! Apparently people love the jellied cranberry sauce – yes, the version with the little box rings around. So this year Big Fish Grill has delighted the masses with the canned delicacy, beautifully presented in a large serving platter. Go figure!
All the breads (mountain bread) are baked on site. Soups and desserts (including that pumpkin cheesecake and amazing chocolate cakes) also start from scratch at the restaurant. The list goes on and on – including raw sea bass, sushi, salads, sides, and at least 12 different entrees – but sadly, this page doesn't get long.
Buffets are difficult to do with grace, especially when you only set them up once a year. And as long as restaurants are operated by humans, there will be occasional mistakes. Sugrue tells me that the vast majority of people are patient and understanding. "It's not Golden Corral," he smiles, "Everything is made to order, and very little is pre-purchased or precooked. We do it because people like it. A lot of people just don't want to cook at home, so we serve them a holiday meal that, who knows, might even trigger some childhood memories.
I have said it before and I will say it again: only the strong survive in this trade of eating.