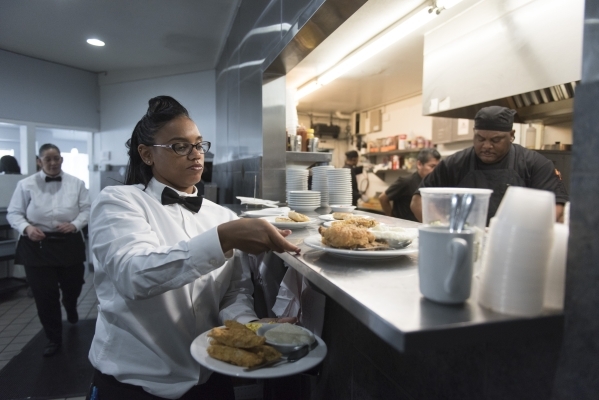 The M&M Soul Food Cafe continues with well-prepared meals – REVIEW
Soul / South food has been in a situation of growth and decline in Southern Nevada for years, with some places opening with great fanfare but a brief future, others somehow sliding in and out of the market, and even established restaurants falling by the wayside in these tough economic times. Through it all, the M&M Soul Food Cafe has endured.
If memory serves, the first M&M restaurant in Las Vegas opened at least 10 years ago in the Northwestern part of the Valley. He moved a few years ago to West Charleston Boulevard; much newer is the one we recently visited, on Las Vegas Boulevard South in the shadow of the Stratosphere.
The new spot is a large open space, decorated quite simply and adorned, if one is not mistaken, with the same decorative tile that characterizes West Charleston. They also share a fairly basic but well-executed soul nourishment devotion. In both places things start well with hot-water cornbread, rarely seen flapjack-type rings (in these areas or elsewhere) with a slightly crispy texture that when folded around a bit of butter. , are heaven on a plate.
There aren't many entrees on M&M's menu and there were no more fried green tomatoes, so we went with the kidney beans and rice ($ 9), served crammed into a bowl, a portion that could easily have been a meal. The beans were hearty enough and deeply flavored, but this dish surprised. The menu said it would come with a dynamic link. I don't like hot links because of their overly soft texture, but the kitchen had artfully marked the casing and grilled the sausage, which improved the texture exponentially.
The fried chicken ($ 13.99, plus $ 1 for all the white meat) was good, an incredibly crispy golden coating shattered to make room for the moist meat inside. A full serving (half portions are available) was supposed to be three pieces, but since we were served wings with our large breast half, they included three. (Too much to eat, but that's what the take out containers are for.)
The short ribs ($ 18.99 for a full serving) have been carefully braised, making them perfectly chewy and tender. They come with a choice of sauce or barbecue sauce, and the latter had all the characteristics of being right out of the bottle.
And the accompaniments. Full servings come with three, which is why we went in this direction; like the banchan at a korean barbecue, the side dishes show the strength of a southern / soul food restaurant, so we wanted to try as many as possible.
The fried okra was perfect, the coating perfectly crisp and the foil perfect for the soft (but not gooey) okra inside. The sweet potatoes were blessed with a delicate kiss of honey. The potato salad was pretty good; the rice and the sauce made us regret having had the sauce with the ribs; and the macaroni and cheese were good if not extremely cheesy. The cornbread dressing was dry, but what cornbread dressing isn't?
The service was very good. I had seen reviews of the slow service, but we were seated and served quickly. While it seemed to take a bit too long for the kidney beans and rice to come out, everything else was well timed.
Considering the ups and downs that have befallen Southern / soul-food restaurants in Southern Nevada and my unfortunate lack of crystal ball, I wouldn't venture to guess the future of M&M Soul Food. But with its hot soul food and warm southern hospitality, we hope it will be long term.
– Las Vegas Review-Journal restaurant reviews are conducted anonymously at the Review-Journal's expense. Email Heidi Knapp Rinella at [email protected]. Find more of her stories at www.reviewjournal.com and follow @HKRinella on Twitter.