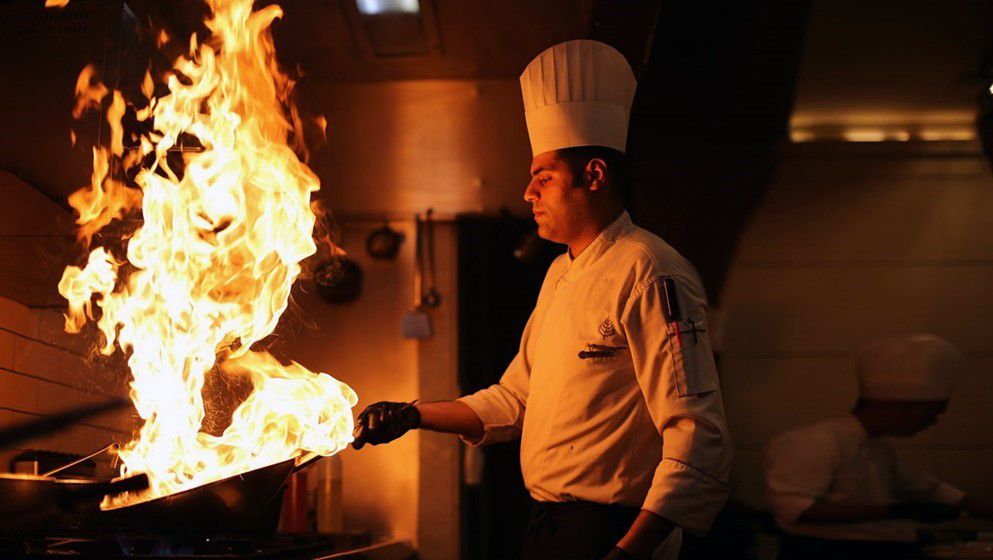 The Four Seasons Amman offers a new Asian experience…
When we plan to eat out, we face the age-old dilemma of sorting through an ever-growing list of restaurants. Luckily, with reviews on the web, our cravings are there to guide us to a certain cuisine, narrowing our options. But what happens when your friend thinks of sushi, when you just can't get rid of the noodles? اضافة اعلان
While the label "Asian food" usually covers a range – from Mongolian to Chinese, Japanese and even Indian – when it's time to eat out, we have to pick one of the above. If different desires are involved, a compromise is inevitable. But the Four Seasons Amman is there to tell us otherwise.
I was invited to a pre-launch event at Four Seasons Amman for their new Asian buffet concept at Olea restaurant. The buffet brings together several Asian cuisines in one place: Chinese, Japanese, Indian, Thai and a section of mixed desserts.
Ready to help
The word "buffet" tends to conjure up do-it-yourself service, boring salads, dried foods in stainless steel serving trays, and the same old selection of desserts; where the quantities of food increase, creativity falls by the wayside. However, at Olea's new Asian buffet, dining is a complete experience, with a strong emphasis on interacting with customers amidst a delicious spread.
Show album
As soon as you enter the restaurant, the buffet is to your left, with a live sushi station in the middle and live cooking stations in the back. Several waiters and chefs are ready to help, making you feel welcome, with someone ready to help around every corner.
I briefly toured the buffet before sitting down and was impressed with several of its features. First, I liked that each kitchen had a designated aisle with a range of foods answered. I also liked that the chefs were very interactive and explained all questions about the menu.
Tasteful offers
The culinary offer was overflowing with creativity. The salad selection was unique. A fresh seaweed salad immediately caught my eye. It was a must.
A variety of steamed dumplings were also served, stuffed with chicken or prawns and served with several appetizing sauces.
Then came a donut station, with homemade spring rolls and several sauces, including a sweet and sour sauce.
Sushi options included maki and nigiri, made fresh at the live sushi station, with chefs explaining all about the rolls and helping you with your selection.
Scents of spices and curries wafted from the Indian section, which offered fish and chicken dishes and a huge selection of vegetarian options. Passing this station, I vowed to try the butter chicken, one of my all time favorite Indian dishes.
Show album
The live noodle station was a jumble of various proteins and types of noodles – this station alone could serve as the concept for an entire restaurant specializing in fried noodles.
Finally, the dessert station was steeped in Asian flavors, with the highlight clearly being the sushi for dessert.
Masterfully executed techniques
I wanted a taste of everything – an ambitious mission in a place that has so much to offer.
The dumplings, a duck and mango salad and the fresh seaweed salad were my first foray. The technique behind filling and shaping the dumplings was very precise. In my opinion, you'll usually find ready-made dumplings or soft, unattractive dumplings at a buffet, but here each dumpling is made with obvious care, the neat folds ensuring symmetry between each piece. The filling was tasty and dipping these dough-wrapped delights in a little soy sauce took them to a whole new level.
The duck and mango salad was masterfully executed, with a spicy kick towards the end that wasn't overwhelming. The sweetness of the mangoes and the salinity of the duck went well together. Meanwhile, the seaweed salad was very crispy and light. You don't usually find fresh seaweed in Amman given that resources are limited, so it was a pleasant surprise to see it at a buffet.
Show album
The sushi was delicious – beyond buffet expectations. The salmon was fresh, the flavor combination and rolling technique was well executed, and the selection was very appealing. That would suffice for an all-you-can-eat sushi buffet, given the variety and freshness of the preparation on site.
When it comes to Indian cuisine, many make the classic mistake of preparing dishes with raw spices. Especially in Indian cooking, spices need to be roasted in some kind of fat, like ghee. Olea's butter chicken grilled the spices nicely, and the chicken was tender and flavorful.
Throughout this experience, I was most excited about the dessert selection. I tasted the chocolate-banana samosas, the sushi dessert topped with a strawberry cheesecake and the coconut sorbet with ginger compote. The flavors were well executed; and even though I had planned to take only a few bites of each dessert, I ended up consuming the entire plate.
Discover a continent
My overall Asian buffet experience was beyond expectation. Four Seasons Amman has once again executed a concept smartly focusing on guest experience. Meanwhile, the hotel manages to keep coming up with new ideas, an ingenious approach for such an old institution in Amman.
I won't go on to discuss their impeccable service – they seem to exceed expectations every time with their friendly staff and knowledgeable specialists (think chefs).
Show album
As for drinks, they have their selection of Japanese sakes and whiskeys which can be paired with food selections.
The Asian buffet is available every Tuesday from 7 p.m. for a very reasonable all-inclusive JD35 per person. For the level of service and variety of dishes, it's a safe bet for the cost. I highly recommend the experience to friends, couples and families who want to enjoy the tasteful culinary offerings of the Asian continent, while expanding their culinary knowledge.
Read more Good food
Jordan News