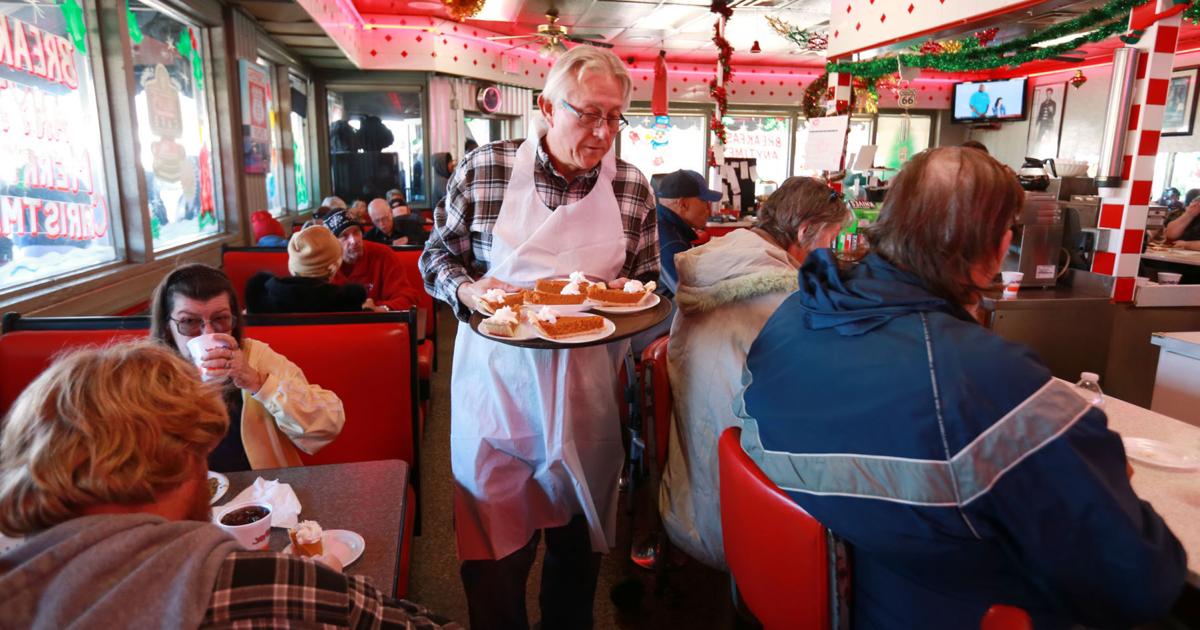 Tally's Good Food Cafe serves a free meal, in good company
By Reece Rist at Tulsa World

The line to enter Tally's Good Food Cafe on historic Route 66 stretched the length of the building throughout Thursday afternoon. Inside the restaurant, staff and volunteers roamed the checkerboard floor with trays of food, ensuring no one was left hungry.
This was the 33rd year that Tally Alame and her eponymous cafe at 1102 S. Yale Ave. were offering a free Thanksgiving meal to anyone who needed it, including those without homes, single parents struggling to make ends meet, and students at the University of Tulsa. who couldn't go home for the holidays.
The restaurant was ready to serve 2,000 people, although Alame said he usually saw between 1,200 and 1,500. The cafe was open from 11 a.m. to 3 p.m.
"I'm always ready," Alame said. "I don't want to run out of food. I want everyone to have a Thanksgiving meal.
Sandra and Brad Mahan were happy to sit down with their three young children – Levi, 8, Noah, 6, and Khloe, not quite 2 – and share a traditional Thanksgiving meal.
The five Mahans were unable to visit their families in Wagoner this year and would not have been able to afford a meal like the one offered at Tally's, Sandra Mahan said.
"I wanted my kids to see what Thanksgiving is all about — all the volunteers and the people who wouldn't have a meal," she said. "Volunteers took time out of their Thanksgiving to feed us."
The meal provided was a plate: turkey, dressing, mashed potatoes and gravy, sweet potatoes, green beans, corn, cornbread salad, roll and pumpkin pie or peach cobbler.
Tally employees fired up the ovens on Monday to begin preparing the meal, and cooking continued 24/7 through Thanksgiving, according to Alame. Three days and 56 22-pound turkeys later, Alame and company were ready to welcome their first guests.
The free meal at Tally's has been offered since the cafe has existed. Before Alame opened the cafe in 1987, when owning a restaurant was just a dream, he knew he wanted Thanksgiving to be like it was on Thursday — employees, members family and volunteers jostle around the restaurant to serve those looking for a hot meal. and good company.
Eating at Tally's on Thanksgiving Day is a decade-long tradition for best friends Leona Keeter and Jacque Gonzalez. Keeter no longer cooks and Gonzalez doesn't drive.
"We help each other," said Keeter, who also brought daughter Judy Keeter.
Like many of Tally's customers, Gonzalez and Leona Keeter have developed a relationship with Alame, who is quick with a smile and a handshake and seems to know many of the people who walk through her door.
"He's a good person to do that," Gonzalez said.
Reece Ristau
918-581-8455
Twitter: @reecereports