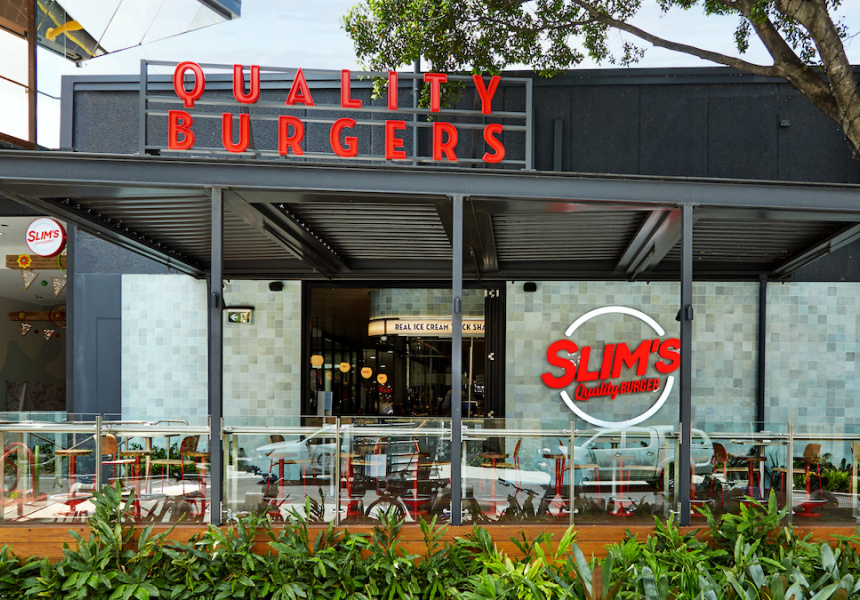 Slim's in Marrickville Channels Old-School American Fast Food Joints – And the prices, with burgers starting at $6.50
Slim's Quality Burger is an apt name for a place that cuts to the chase with its purpose: serving affordable, simple burgers that are also delicious.
The Marrickville restaurant is inspired by American restaurants of the 50s and 60s and comes from a trio who know burgers: the founders of Betty's Burgers, Nik Rollison, Michael Tripp and David Hales (they are no longer involved with Betty's).
The main difference between Slim's and other burger restaurants, which you will notice immediately, is the price. Ride to Marrickville Underground and order one of 11 burgers from the menu board without spending more than $10. In Sydney these days it's almost unheard of – unless you settle for Macca's or The Colonel.
"With Betty's, we could reach most people. With Slim's, we can reach everyone," says Rollison, a Southern California native who grew up around the iconic American chain In-N-Out Burger. Large format. "That's the biggest difference."
A classic cheeseburger with an Angus beef patty, grilled onions, cheese and ketchup on a potato bun will only set you back $6.50. The most expensive burger, "the works," with beef, grilled onion, maple-smoked bacon, cheese, lettuce, tomato, pickles, and special "drive-in sauce" is just $9.50. Extras such as jalapenos or beets are 50 cents and an extra patty is $2.50.
Between the buns, you'll also find grilled chicken and cheese; a plant-based patty with vegan garlic mayo; and fried chicken with smoked bacon, tomatoes and lettuce. Don't confuse low-cost with shortcuts. Potatoes are hand cut into fries and ice cream is churned on site daily for sundaes and milkshakes.
Sydney's burger scene has evolved over the past decade. And while we've embraced a lot of American influence, many restaurants have evolved from the classic cheeseburger smash to high-rise service held together by skewers.
Slim's is looking to reverse this trend. "We believe simplicity is the only formula and, frankly, you can't reinvent the wheel," says Rollison.
"I mean, it's meat between the bread, and if you try to evolve it into a bridge of fish with a pile of beef, with chicken, Nutella, and donuts, it's no longer a hamburger."
The Marrickville restaurant – with its restaurant-style counter, bright red banquettes, outdoor courtyard and open kitchen – is the first of what will eventually be many locations across the country. There are already two other Sydney locations under construction, and the five Queensland stores under development will each be built as drive-throughs.
"We offer an old-school drive-in style experience where you pull up to your car, order and pay from your car, someone brings it to you, then eat and go at your convenience," Rollison says — think the drive-in diners of classic american high school movies Dazed and confused and american graffiti.
Slim's Marrickville may not offer roller skate service, but convenience and a sense of nostalgia are sure to be there. We're just jealous that Sydney isn't getting a drive-in yet.
Slim's quality burger
20 Smidmore Street, Marrickville
Hours:
Monday to Wednesday from 11 a.m. to 8:30 p.m.
Thurs 11 a.m.–9 p.m.
Fri & Sat 10.30am–9.30pm
Sun 10.30am–8.30pm