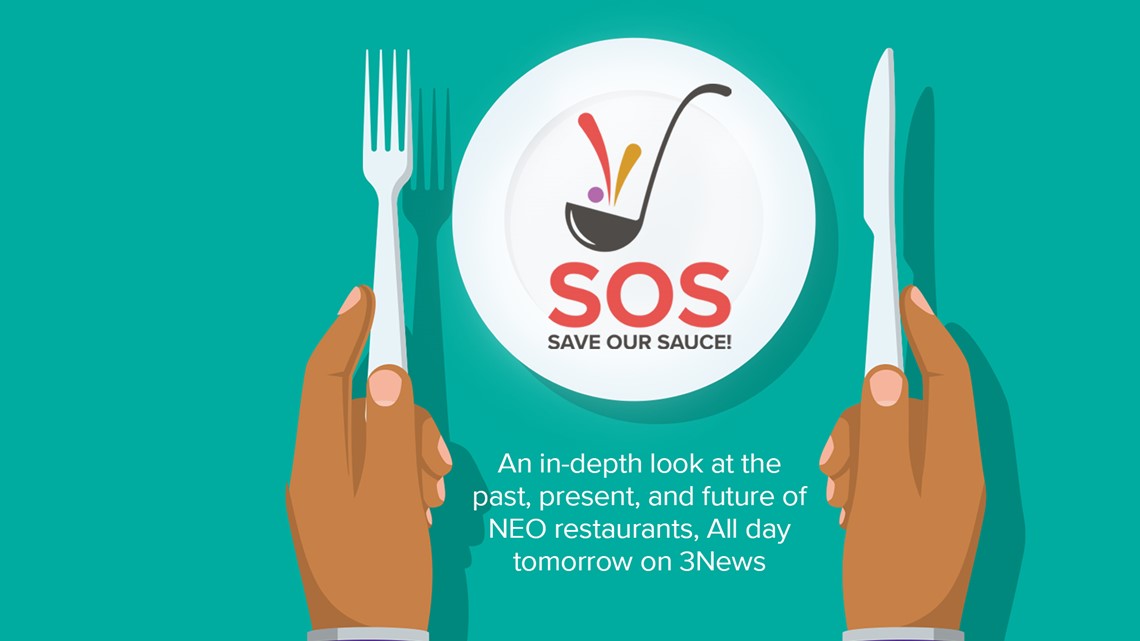 Save our sauce | Red, white and food: restaurant jobs
Check here for a link to the Ohio Restaurant Employee Relief Fund and to find a complete listing of job openings at our local locations.
CLEVELLAND – Editor's Note: The video above is taken from a previously published story
We have seen the ups and downs of the restaurant industry over the past year or so. Shut down completely, switch entirely to take out and other creative ways just to keep their businesses afloat, and now face the unknown of trying to get back to normal.
But we do know two things about this industry; that "normal" for these restaurants is still a long way off, and that they will never give up in trying to provide all of us with memories, full bellies and dedicated service.
WKYC's Save our Sauce initiative hopes to continue this mission, and we are now tackling one of the biggest issues facing the industry: a shortage of workers. There are two things that might help resolve this issue.
You can now donate to the Ohio Restaurant Relief Fund to keep the lights on. You can click HERE to do this.
Or if you are looking for work or know someone who is, you can refer to this long list that we have put together of restaurants looking for employees. You'll see the restaurants broken down by county, the jobs they offer, and how to get in touch. By donating or learning about these jobs, we can continue to take advantage of Cleveland's strong restaurant scene, grow it even more, and put food on the table for those who work so hard to put it on ours. .
And tune in to 3News on Thursday, July 1, as we highlight the industry's successes, the costs and behind-the-scenes actions restaurants are taking to stay open, why workers aren't coming back, and what it takes to hit the threshold. profitability for our local restaurant scene.
Slyman's Tavern: Orange, Mentor, Independence
Recruitment: Front of house and back of house positions Contact: click here for a link to apply
Flannery's – Downtown Cleveland
Recruitment: waiters, bartenders, kitchen staff, bussers
Contact: Welcome to store
Geraci's: 29425 Chagrin Blvd, Pepper Pike
Recruitment: general manager Contact: 216-831-1595, ask for Marty or Bucky, or stop by for an app
Hiring: bartenders and waiters, $ 15 per hour
Treehouse Taverne: 820 College Ave, Cleveland
Parnell's Pub: Cleveland Heights: 12425 Cedar Rd, Cleveland Heights
Hiring: bar help, week and weekend shifts available
Pancake House of Origin: 28700 Chagrin Blvd. Woodmere
Prost in Lenau Park: 7370 Columbia Road, Olmsted Falls
Recruitment: waiter, bartenders for restaurants, banquet staff, line cook, Sous Chef Contact: [email protected]
North High Brewery: 2814 Detroit Ave, Cleveland
Recruitment: administrative staff
Contact: Welcome without an appointment, or visit this connect.
Il Venetian: 100 St Clair Ave NE, Cleveland
Recruitment: waiters, bussers, runners, and a Click bartender the link to find out more and apply
Muldoon's Saloon and Eatery: 1020 E 185th St, Cleveland
Hiring: Bartender, Waiter, Busser, Dish, and Line Cook Contact: Message the restaurant's Facebook page, call the restaurant, or meet in person to complete an application.
Greenisland Restaurant: 25517 Eaton Way, Bay Village
Hiring: bartenders Contact: Apply in person
Café Vitiman Kandie: 1400 E 105th St, Cleveland
The Wild Goose – 4144 Erie St, Willoughby
Tony Sacco's Charcoal Oven Pizza: Great Lakes Mall– 7850 Mentor Ave # 390, Mentor, OH 44060
Hiring all positions Contact: (440) 255-2625, ask for Chris or Jeff
Papa's Brickoven Pub, Green
Hiring of waiters, bartenders, kitchen staff and waiter assistants. Contact Lance Houston: 330-704-6260
Courthouse Inn: 116 W Lincoln Way, Lisbon
Hiring of kitchen staff, waitresses, bartenders Contact: Brooke Keys at Courthouse Inn: (330) 870-4216