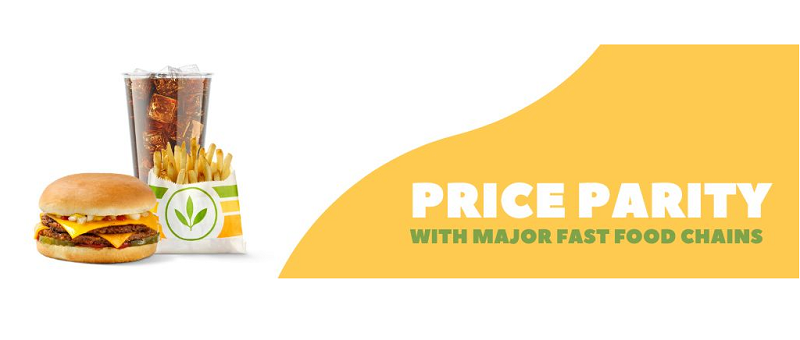 PRICE OF VEGAN FAST FOOD CHAIN ​​BURGER IN RANGE WITH FAST FOOD GIANTS
Plant Power Fast Food, the nation's leading 100% plant-based fast food chain, has announced new low-cost entrees and an exclusive new Pea Protein Burger Patty.
According to Plant Power co-founder and CEO Jeffrey Harris, the addition of a new low-cost "Classic Burger" line brings the company closer to its goal of price parity with traditional fast-food chains. According to Harris, "The launch of these new hamburgers and cheeseburgers at $4.95 and $5.95 respectively is a tremendous step towards achieving this goal.
Head-to-head on price, Plant Power Fast Food offers cheaper vegan burger options than Burger King, for example, which sells its Impossible Burger for $7.99. Additionally, Plant Power is now between $1 and $2 for similarly sized animal-based burgers at major fast-food chains like McDonald's, Wendy's, and Burger King. While there is many reasons why vegan meat is more expensivethis gap is narrowing as vegan/plant-based manufacturers meet demand by increasing production.
Plant Power co-founder and COO Zach Vouga explained how lower prices would expand accessibility to the growing number of consumers interested in exploring plant-based options. Says Vouga, "One of the main criticisms of plant-based food is that it is expensive, our goal is to remove this barrier and make plant-based fast food an easy choice."
The company also announced its new non-GMO, gluten-free Pea Protein Burger Patty. According to Vouga, this new development took years to prepare: "We spent almost two years collaborating with Alpha foods' R&D to painstakingly perfect the new juicy, smoky and insanely delicious burger patty and we are thrilled with the results.
Based in San Diego, the company now has 11 locations and a food truck. According to a company spokesperson, the company plans to have 15 restaurants in operation by early 2023.
ABOUT PLANT POWER FAST FOOD
Based in San Diego, California, The Plant Power Restaurant Group, LLC ("Plant Power", "the Company") is a privately held company that is at the forefront of plant-based fast food with the goal of providing a service convenient, healthier option without sacrificing taste and satisfaction. Plant Power Fast Food is a 100% vegan fast food chain that offers a wide range of menu items – from burgers, fries, shakes to salads, fresh juices, as well as a children's menu and a extensive breakfast menu. True to its ecological commitment, much of the furniture and decoration is sustainable, that is to say that the tables and chairs are made from renewable bamboo, in addition, all cutlery is compostable (such as the majority of their take-out packaging).
To learn more about the company, its mission, the philosophy of the founders and the menus offered, visit plantpowerfastfood.com.