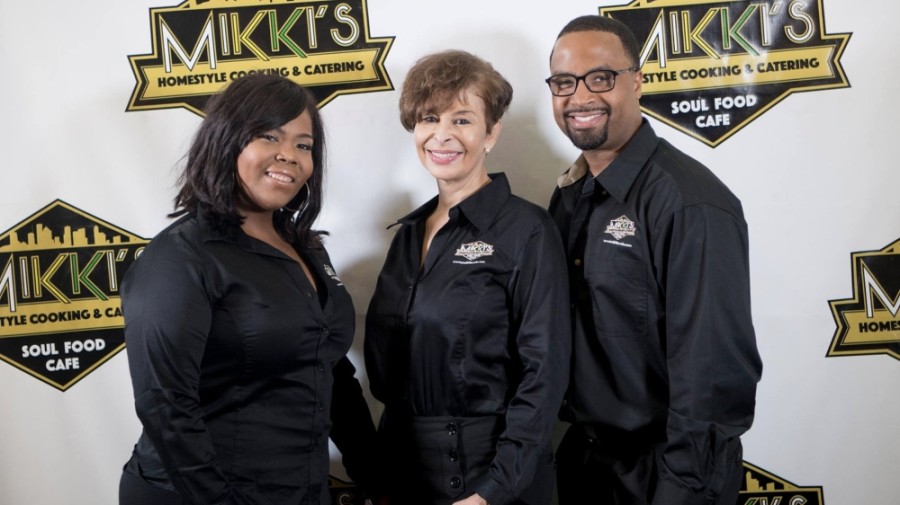 Mikki's Soul Food Cafe: Pearland Restaurant serves home-style, family-inspired dishes
Joseph, his mother Jeanette Williams (center) and his sister Jeanelle Williams opened the first Mikki's store 20 years ago. (Courtesy of Craig Joseph)
Love is at the center of the Mikki's Soul Food Cafe experience, as it was the most important part of the business for its founder, Jeanette Williams.
After nearly two decades serving soul food on West Bellfort Avenue, Jeanette, her son Craig Joseph and her family wanted to provide the same home-cooked meals to residents of southeast Houston. Pearland residents were making the 20 mile commute to the Stafford area location for some of its cooking before Craig and his wife, Tasha Joseph, opened a location at 9603 Broadway Street in June 2019 , said Craig.
While Jeanette passed away just five months before Pearland opened, the two restaurants continue to offer the same meals she loved to cook and serve. The roots of the menu can be found in the food that Jeanette Williams served at barbecues for her colleagues before opening a restaurant, while working for the United States Postal Service.
"She sacrificed everything [for us] to be where we are today, "Craig said of his mother, whose grave he often visits as she is close to Pearland's location. "I remember her everyday."
Praise for Jeanette's food has spread by word of mouth over the years, including through local on-air personalities, Craig said; Jeanette used to offer a free catering service to area radio hosts and their guests. This has led to celebrities heading out for a meal and photos with Mikki's staff, as evidenced by the snaps hanging on the walls of the restaurant.
Craig's sister, Jeanelle Williams, runs the West Bellfort Avenue store, which celebrated its 20th anniversary in December. The diners of either restaurant will be greeted by friendly and attentive staff and will find an environment that will appeal to everyone, black or otherwise, as Jeanette enjoyed sharing the flavors of her dishes with people of all. horizons, said Craig.
"Soul food can be urban; it can be for the younger ones, "said Craig, adding that Pearland's location provides a small business atmosphere unique to the region. "The fact that everything is homemade, you can't really find out in this area. "
Mikki's at Pearland has a drive-thru window, which Craig says has been extremely popular amid the coronavirus pandemic. The menu has developed from its 10 original dishes and five starters; different specials are now offered every day of the week, and fried chicken and fried catfish only on weekends are consistent hits, he said.
Mikki hopes to have breakfast options on his sites by the summer, he added.
Jeanette has shared his love of cooking with others in a way that has created generational wealth for his children, Craig said, and he looks forward to capitalizing on this wealth and passing it on to his family.