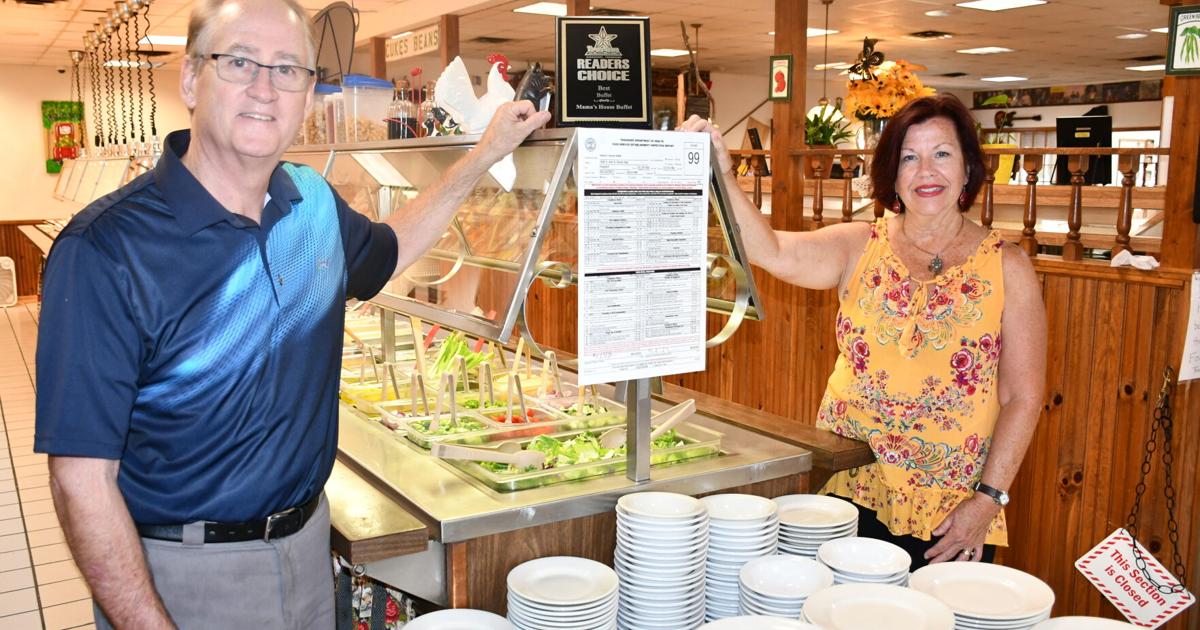 Mama's House buffet restaurant has a lot to celebrate | Sunday stories
Owners Mike and Angela Vaughn are celebrating their fifth year of operating buffet restaurant Mama's House — and there's certainly a lot to celebrate this year.
The restaurant, a popular spot for more than 20 years, this year received a score of 99 from the Tennessee Department of Health, despite safety concerns posed by the COVID-19 pandemic. It was also recently voted by the community as the 'Best Buffet' in the Kingsport Times News Readers' Choice 2021!
"We constantly strive to take food safety and customer safety very seriously! Mike explained. "We know COVID-19 has affected many businesses, and we weren't immune to this, but we want to thank our loyal customers and staff for helping us through these difficult times."
Throughout the crisis, Mike and his staff have been diligent in staying in touch with health inspectors to ensure compliance with changing standards due to COVID-19.
As a result, Mama's House has added new security procedures. They offer hand sanitizer to customers and urge them to wear provided plastic gloves when helping themselves for safety and out of respect for other customers.
"Food safety is job #1 for all of our staff, and we don't compromise on that," said Mike. Mama's House dining room provides plenty of space for social distancing, and they're starting to see large groups of people returning to the restaurant for special events.
"It's great to see people dating," Mike said.
And, truly, family – related or not – is what Mama's House is all about.
let's cook
Where else can you enjoy delicious food — all you can eat — just like mom would in an atmosphere where the staff's ultimate goal is to make you feel at home?
With over 40 years of restaurant experience, Mike and Angela have changed the menu offering more homemade items like real mashed potatoes and homemade macaroni and cheese.
"We constantly get compliments from customers on our food and the unique flavors of our food. While we still have our traditional favorites, like our deep fried chicken and fish, coleslaw, pickled beets, bread pudding, and what I believe to be the freshest salad bar in the area, we also have daily specials," Mike said.
Our specials are very popular.
Tuesdays are "Nacho Mama Tuesdays," with homemade taco meat and all the fixins. Wednesdays are like a family barbecue with burgers, hot dogs and hand-cut breaded chicken tenders made by Mike himself. A baked potato bar is offered on Thursdays.
Seafood Fridays feature a selection of fried and baked fish and shrimp. The restaurant's popular fried catfish appears on the buffet after 4:00 p.m. On Saturday you can have "Breakfast for lunch" from 10:00 a.m. to 3:00 p.m. After 11:00 a.m. you can choose between breakfast and lunch. Then, at 4 p.m. on Saturday, the star of the buffet is barbecued ribs cooked overnight. On Sundays, customers can enjoy a "Traditional Sunday Dinner" with turkey and dressing, pork loin or meatloaf, a carving station with ham and roast beef, large casseroles and delicious desserts.
"Hands down, we are the best value in town!" Mike added. "Where else can you eat lunch $11-$13, all you can eat; or dinner from $14 to $16, all you can eat; or Sunday dinner for $14 to $17, all you can eat? »
Mama's House also offers takeout by the pound for just $5.99 a pound, and it's becoming increasingly popular. "Just as quickly as you can walk through a drive-thru line, you can walk in and fill a plate, pay, and get back to work with delicious home-cooked food," Mike said.
Family ties
The Vaughns met in the restaurant industry and have been married for 36 years.
As they returned to the area several times to visit family, they decided to stay here.
"The wayward finger of fate pointed us to Mama's House, which became available, and the rest, as they say, is history," Mike said.
Angela has deep community roots. She is one of the seventh generation to live at Stuffle Farm in the Bloomingdale area since the 1840s. Buying the restaurant was like coming home to her. "I love being back where my family roots are," she said. "We always meet people we know and like to catch up with."
Mama's House is located at 2608 John B Dennis Highway in Kingsport. They are open Tuesday to Thursday from 11 a.m. to 7:30 p.m., Friday from 11 a.m. to 8 p.m., Saturday from 10 a.m. to 8 p.m. and Sunday from 11 a.m. to 6.30 p.m.
Mike and Angela — and their team — invite you to come and stay at Mama's House. To order, call 423-247-5691.