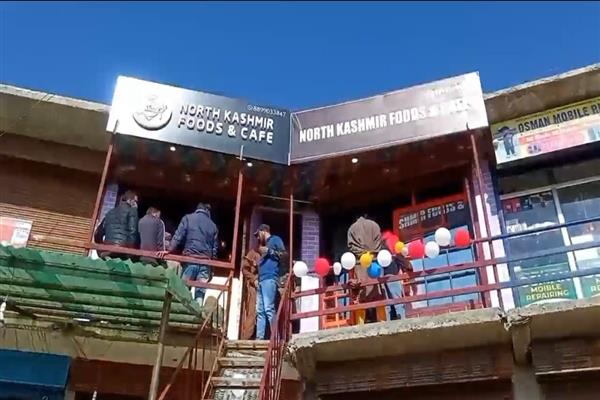 Kralgund Qaziabad gets first fast food unit "North Kashmir Foods and Coffee"
Raja Akbar
Langate February 21: (KNS) 'North Kashmir food and cafe', a first fast food unit opened in Kralgund Langate, North Kashmir on Monday.


The unit was inaugurated by key guests DSP Kralgund Adil Hussain and SHO Kralgund Javaid Ahmad and Qaziabad Merchants Federation, members of civil society were present on the occasion.
On the occasion, DSP Adil Hussain said that it is a good thing for educated young people to create their own employment sources. I hope that this step will encourage other young people to propose their sources of employment.
He also urged young people to stay away from drugs, not to be consumed by this drug menace, he added.
Transport union chairman Shabir Ahmad Malla said that years ago such things were not available in Kralgund but in present times many new store units have been opened on the Kralgund Qaziabad market where we get new things.
The market is growing at a rapid speed, creating job opportunities for many young people, he said.
The Qaziabad Traders Body and Transport Union also welcomed the opening of a fast food unit in Kralgund.
Haji Mohammad Akbar Ganaie said the purpose of opening the unit is to provide customers with quality and hygienic food.
Since there is a lot of saturation to find a government job, keep in mind that I am offering my job source for young people, he said.
He expressed his warm gratitude to the guests for honoring the occasion. I will not let my customers down, provide quality products, he added.(KNS)