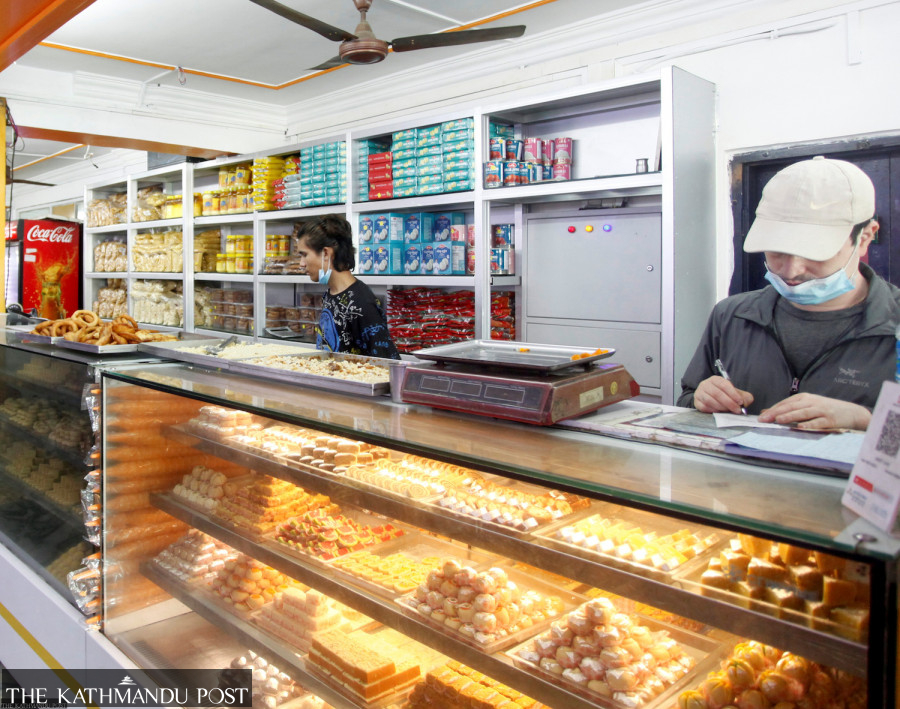 Jeevan Daiya Pasa, Kalimati's must-try fast food
In the bustle of Kalimati, there are several famous monuments. But perhaps the most famous is the Kalimati Tarkari bazaar. A five minute walk from the bazaar is probably the most famous fast food in the region: "Sweet Cave: Jeevan Daiya Pasa".
In the morning, the outlet is full of people sipping cups of steaming tea and having breakfast after finishing their morning walks. During the afternoon lunch hour, office workers throng the cafe and from the kitchen waiters carry plates of momos, chow mein, and dosas to tables. And in the evening, the pace slows down and the majority of customers are those who come to buy sweets.
Residents familiar with the history of the area recount how Sweet Cave has been an integral part of Kalimati's recent history: the store opened in 1981, making it not only one of the oldest stores in Kalimati. The food of the region, but also a witness to how Kalimati, which is one of the busiest parts of Kathmandu, has evolved over the years.
One recent morning at the point of sale, Uttam Lal Joshi, 74, a retired tax officer, was reading the daily newspaper and beside him was a cup of tea. Every now and then he would look around to see what was going on in his neighborhood and say hello to his friends who passed by to have their morning breakfast at the store.
"I walk around the neighborhood from Tahachal Bagaicha (northwest of Kalimati) every day in the light of day and come and have my morning tea here. It has become a ritual now. Here I meet people and know what my friends and family are doing, "Joshi said, beaming a cheerful smile. "I have been coming here for over 34 years. To me this place is like a neighborhood friend that I can always count on. I have seen this place grow over the years. Of course, that's not what it used to be. The menu is now much more diverse and the layout of the place has also changed. But despite all the changes, I can assure you that there are many people who sincerely feel and appreciate the importance of this place. For many alumni like me, Sweet Cave has become a habit.
Joshi was friends with the founder of Sweet Cave, the late Jeevan Raj Manandhar, who was inspired to start the business after seeing his maternal family's tea and sweets restaurant in Om Bahal.
In the 1980s, the outlet was known as "Jeevan daiya Pasa", which means "Jeevan dai's shop" in Nepalbhasa. Manandhar was active in politics and his political ideology leaned to the left. His chiya-mari pasa (tea and candy shop) was a crossroads where he met and hung out with people, sometimes to discuss the development of the neighborhood, sometimes to discuss politics. During the Panchayat era, this was also where underground politicians like KP Oli, Madan Bhandari and Bidhya Bhandari came for their political meetings. In the late 1980s, Manandhar also became the president of Ward 13.
Today, Manadhar's son, Suman Sayami, owns and runs the store. And after years of running a business so deeply rooted in the social fabric of the local community, Sayami has left his own mark not only in the business but also in the community.
Sayami starts working early. Every morning, after a game of badminton with his neighborhood friends, Sayami goes to one of the godowns in Sweet Cave, where he notes the volume of the day. orders. The godowns are all stacked with lakhamaris, anarsa, dalmut and furandana. Whether talking to his clients on the phone or in person, Sayami, no matter how busy he is, is always very personable and patient.
"You might think it's the great food that keeps our customers coming to this place – and it could be – but ultimately it's the way we make them feel that keeps them coming back. This is what I tell my staff all the time: Haste does not generate business, "he says.
His friendly nature made Sayami a popular figure among the restaurant's regular patrons, just like his father was. When customers have to place bulk orders for traditional sweets, which are an integral part of Newa rituals and ceremonies and want to negotiate prices, Sayami is their favorite to deal with. Sayami knows this and so it's his phone number that's printed on Sweet Cave's packaging and hoarding signs. As a result, his phone never stops ringing.
Sayami was a 7th grade student when he joined his father's business. "When I finished my studies, I knew I had to take charge of this business and develop it. Running the business was my calling, so I didn't even think about pursuing higher education. Instead, I worked hard to figure out how to run the business and devoted myself to understanding every aspect of it, "he says.
In the early 2000s, Sayami had taken over the management of the company, and he was already leaving his own mark. He introduced Indian sweets to the menu, which were becoming increasingly popular among the people of the valley. He also expanded the menu to include dishes that can be prepared and served quickly, turning the establishment into a vegetarian. fast food point. He also expanded the business by providing services for Newa Bhwey (party).
"Times and customer demands were changing and I knew we had to adapt and we did and we continue to do it," says Sayami.
The changes Sayami and his family popularized Sweet Cave and footfall even further as the outlet grew. But despite everything, for years, Sweet Cave was losing money.
"Given the huge crowds our store saw, people thought we were making a lot of money. But the truth was, we were losing money. We found that a lot of our customers took advantage of the crowds and left without paying, "he says. "Once we introduced a priority payment system, the situation improved. "
The city's food and beverage industry has a high staff turnover rate, but many Sweet Cave employees have worked at the facility for years.
Ram Lal Yadav, 31, who works as a cook at Sweet Cave, has worked in the store for 13 years.
"We have thousands of customers every day and in the afternoon, that's when people stop for lunch and khaja, it's getting really hectic, "he said. "It's hard to work in an establishment as busy as ours, but Sayami dai make sure we are well taken care of.
Yadav begins each morning by making lalmohan and rasbari, and during festivals when the demands are high, Yadav reaches out to his friends who know how to make sweets to help him in the kitchen.
"I understood a long time ago that for any business to succeed, it is crucial to take good care of its employees. One of the main reasons our company has managed to go this far is because of our people, "says Sayami.
One of the older staff is Pasang Tamang. He joined Sweet Cave in 1990.
"Not only are the staff well paid, but Sayami dai also makes sure that our other needs are also well taken care of. I don't see any reason why I should leave this place. I am happy at work, "says Tamang.
But Sayami, 48, who was once the spearhead of Sweet Cave, took a step back, leaving family members and staff to take charge of the operation. The reason is his deeper and deeper engagement with social and political movements.
Sayami, besides being a businessman, is also known as a cultural activist who actively participated in opposition movements to the government's road development plans in various municipal districts. This business started about six years ago when his own house, among dozens, was about to be demolished during a road expansion in Kalimati. He has since raised his voice on behalf of the communities of Thankot, Sankhu, Tokha, Balaju, Khokhana and Harisiddhi who were facing the same issues.
"When my own house was in danger of being demolished despite our house's legal papers, it shook me from the inside. This incident changed me as a person. After that, I organized many meetings to educate people about their rights as citizens and the consequences of the expansion of the roads, and many of these discussions took place here in Sweet Cave, "says Sayami. "But today I'm so involved in helping communities at risk of being uprooted by the expansion of the city's roads that I can't devote as much time to my business as I used to. This social activism of which I was a part made me see how, in the name of development, the government is encroaching on our Newa community.
The country, says Sayami, has not understood the meaning of development.
"Development isn't all about expanding roads and erecting tall buildings, it's also about strengthening communities, preserving culture and empowering people. I see that politics has become more of a business and less of a platform to serve the people, "Sayami says.
Sayami's journey of social activism appears to lead him down a similar path to his father's. But he is quick to point out that he never intended to take this path.
"I have always considered myself to be a businessman, but circumstances have led me to become actively involved in social activism, and I now realize how important it is," says Sayami, who said to himself. now open to enter traditional politics. "But Sweet Cave will always be my base and I will continue to be involved in it."
By 11 a.m. that morning, Sayami had already left the store to attend one of the day's many social gatherings. At the point of sale, it was business as usual. Customers were flocking in and out of the point of sale, orders for food, candy and tea were being placed and delivered, as has always been the case for decades. Sitting at one of the tables was Joshi, the retired tax officer. He was drinking his second cup of tea and was lost in a conversation with an old friend.