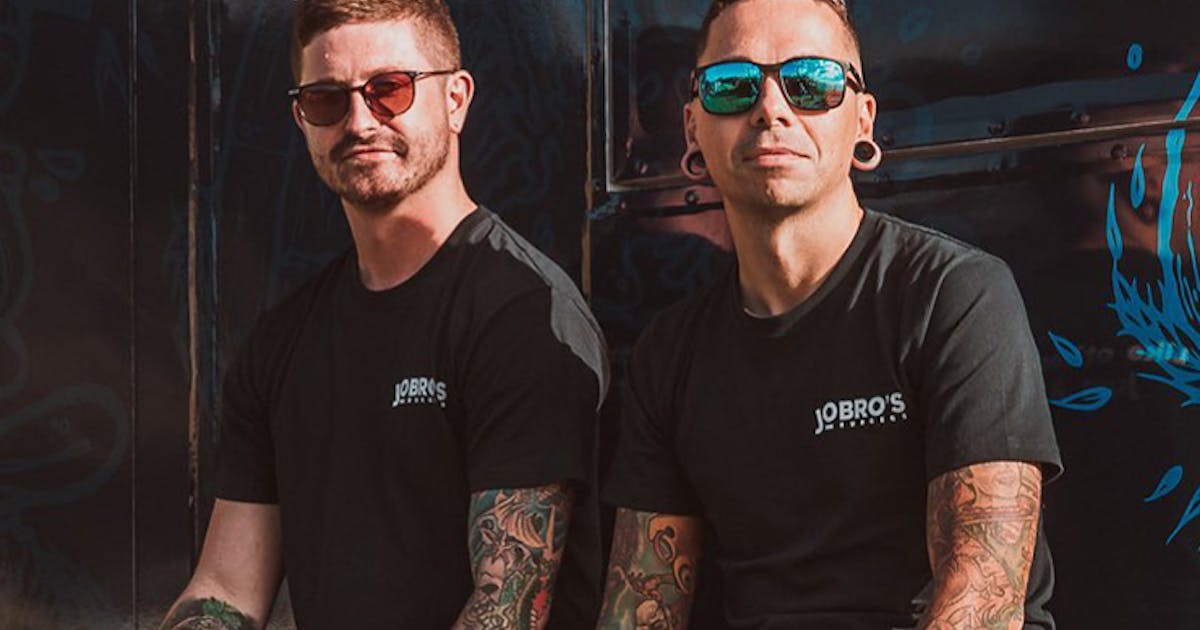 How the duo behind Jo Bro's burgers are launching fast food sustainably
If, like this writer, you've visited enough market towns to scale Auckland City, local legends at Jo Bro's burgers no introduction needed.
From winning events with their food truck to physical stores in Titirangi and Pt. Chev, Chef Josh Barlow and Brody Jenkins' menu deserves the top spot on your New Zealand food list.
With quality, consistency, and durability at its core, there's no doubt that Jo Bro's Burgers ticks all the boxes. For a look at their secret sauce, we teamed up with MINI– who put the power on the peddle towards an all-electric future – we went behind the grill to chat with the duo.
Tell us about you. How did your travels lead to Jo Bros?
J: I have a background in gastronomy, I spent years in Sydney and London. When I came back to Auckland, I was the head chef at the Grove Restaurant, and that's where I met Brody, and that's where this journey started. I've always been from the west.
B: I was born and raised in West Auckland, I grew up near Titirangi. I studied cooking at Sky City for three years and stayed there for about eight or nine years before leaving, after which I met Josh at the Grove.
Was there a moment when you knew, yes, this is what we want to do?
J: I think Brody and I got to a point where we had the food truck, and we were doing part-time events and markets on the weekends and some nights, but we were both fully employed elsewhere . It got to the point where we both knew that if we wanted to give it a full-time boost, we had to quit our other jobs and commit to doing Jo Bro full-time.
What made you decide to do this in partnership?
J: When Brody and I worked at the Grove Restaurant, we spent a lot of time chatting and joking about starting a food truck. Just through conversation, we got the idea for Joe and Bro's burgers. And then from there it went to Joe Bro's Burgers, and the brand started to grow there.
B: I was more into American burger-style cooking, whereas Josh had just traveled the world doing fine dining, trying to bring those two things together. Very simple American cuisine with fine gourmet quality – Jo Bro's was born then.
Can you briefly describe the overall concept of your menu?
J: A big part of our brand and concept is to make fast food better. With our menu, we want to keep it simple: West Coast American style burgers, really juicy, really tasty, but no nasty ingredients. Everything is 100% local and excellent.
Tell us about Jo Bro's commitment to sustainability. What makes a sustainably built burger?
B: It all starts with the ingredients, so whether it's lettuce, tomato, onions or bread, we only use the best and support other local businesses who think like us.
J: Part of our commitment to sustainability is making sure that all of our suppliers have the same thought process as us. We check that everyone is taken care of and that all ingredients and packaging are recycled and disposed of correctly.
What is your advice to industry peers who want to embrace sustainability, where do you recommend they start?
J: Our advice to others in the industry would be to look at your product list and where it comes from. This is important because you want the products to be sourced as locally as possible to reduce the number of trips that ingredient has to make to get to you.
All of our packaging is compostable. We make sure our recycling processes are strong and that all our waste goes to the right place.
You're particularly passionate about food waste at home, what advice do you have for those looking to cook sustainably at home?
B: My advice for people at home to be a bit more sustainable when it comes to food and cooking, in general, would be to be careful what you do with your waste. One of the biggest mistakes people make is not cleaning up their recycling. If there is a piece of recycling that has not been cleaned in your entire bin, the whole thing is not recycled.
J: Another little advice is to cook according to the seasons. Many labels in supermarkets will now indicate where the products come from. So by eating local fruits and vegetables that are in season, you make sure that something hasn't traveled unnecessarily from abroad.
What's the best way to build an amazing burger?
B: We believe that the best way to prepare a burger at home is to prepare it exactly the way you like it: just put a little Jo Bro Original Burger Sauce on it, and you're done. We've been working on the recipe for our Joe Bro's Original Burger Sauce for about six or seven years now – pick up the jar next time you go to the store.
What's next for you? Is there anything exciting in the works?
J: We will have our two food trucks at Highlife again this year in Matakana, which we have been doing every year since we started. But if you don't know where to find us, it is best to consult our instagram Where Facebook to see where we are, we will be.
If you want to start your sustainability journey, be sure to check out MINI Electric here.
Editor's note: This article is sponsored by MINI and proudly endorsed by Urban List. To find out more about who we work for and why read our editorial policy here.
Image Credit: Jo Bro's Burgers via instagram