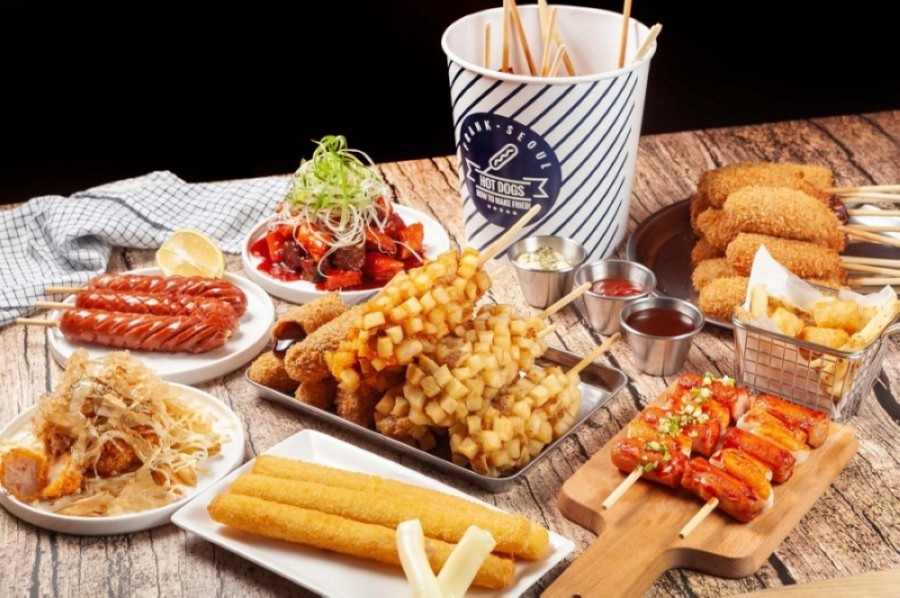 Frisco Fried Food Cafe Frank Seoul Opening and Other DFW Area News
Korean Cafe serves a variety of fried hot dogs, desserts and snacks. (Courtesy of Frank Seoul)
Read the latest business and community news in the Dallas-Fort Worth area.
Frisco
Korean snack café Frank Seoul is now open in Frisco
Frank Seoul opened on July 11 at 9292 Warren Parkway, Ste. 130, Frisco. Korean Cafe serves a variety of fried hot dogs, desserts and snacks, as well as coffee, lemonade, and tea.
Haystack Burgers & Barley serves a menu with a 'Tex-Mex twist' in the Frisco railway district
After years of running Tex-Mex restaurants, husband and wife duo Kevin and Jenny Galvan have said their next step is to break into the burger business.
"It's simple, and everyone loves burgers," Jenny said.
Starbucks in North Frisco will open this fall
Starbucks will open a new location in North Frisco on October 5 at 1425 US 380. The coffee chain serves various coffee and tea drinks as well as pastries, sandwiches and other snacks. The new store will offer drive-thru.
McKinney
Sushi restaurant and liquor ice cream shop opened in McKinney
Two new businesses, Roll On In and Buzzed Bull Creamery, will open in a shared location at 7001 S. Custer Road, Ste. 600, McKinney, this winter.
Grapevine-Colleyville-Southlake
ROUNDUP: News from 5 businesses, restaurants in Grapevine, Southlake
The news includes a new winery and a halal restaurant.
Keller-Roanoke-Northeast of Fort Worth
Crumbl Cookies Coming Soon to Presidio Crossing in North Fort Worth
A Crumbl Cookies location will soon be available in the Presidio Crossing Mall, north of Fort Worth.
Plano
Captain's Club at Legacy event location opens in Plano
Captain's Club at Legacy opened in August in The Shops at Legacy at 5840 Legacy Circle, Ste. D100, Plano. The place can be used for social or corporate events.
The Pehnava store now open in Plano
The Pehnava store opened on June 22 at 812 W. Spring Creek Parkway, Ste. 212, Plano. The store sells Indian clothing for women, such as saris and shararas, as well as items for men and children.
Richardson
Reef Point Yoga in Richardson closes brick-and-mortar studio and offers outdoor classes
Reef Point Yoga announced in August the closure of its studio in the CityLine development at 1417 E. Renner Road, Ste. 340, Richardson. The company now offers outdoor yoga under its new name, CityLine Yoga. Classes, focusing on stretching and muscle building, will be held at CityLine Plaza, 1250 State St., Richardson.
Elizabeth Ucles, Olivia Lueckemeyer, Makenzie Plusnick and Ian Pribanic contributed to this report.