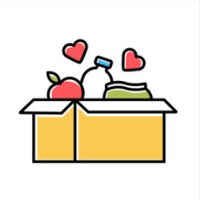 Food boxes will be distributed Thursday at the Soul Food Cafe Mission | News
A local nonprofit food ministry and food broker will receive another shipment from the United States Department of Agriculture on Thursday and distribute the food to those in need the same day.
I Feel the Need, Inc. is feeding those struggling with food insecurity during the global coronavirus pandemic for a third week.
Shane Willbanks, the executive director, said he would continue to distribute food locally on a weekly basis as long as the USDA continues to supply the food.
I Feel the Need is able to provide food to local residents through the USDA's Farmers to Families Food Box program.
The Farmers to Families Food Box program is part of the Coronavirus Food Assistance Program that allows the USDA's Agricultural Marketing Service to partner with national, regional and local food suppliers who have been impacted by farm closures. restaurants – as well as other business closures caused by the global COVID-19 pandemic – and purchase up to $3 billion worth of dairy and meat products as well as fresh produce. I Feel the Need requested and was granted assistance under the stipulation that it distributes the family food boxes to families, other nonprofits, and community and faith-based organizations that may also distribute the food .
So far, the nonprofit organization has distributed more than 3,000 boxes of food to local families and other community partners working to feed residents struggling with food insecurity.
"There are a lot of people suffering and a lot of people not working. It's a great opportunity for people to come in and get some fresh food," Willbanks said.
This week, volunteers will distribute food to those in need at Soul Food Cafe Mission, located at 1717 South Donaghey Ave. at Conway. Volunteers will begin distributing food to those in need on a first-come, first-served basis at 9 a.m. Thursday. The event will continue until all the food is gone. Food boxes will include milk and other dairy products. Organizers also hope to distribute production items, but that will depend on what items the USDA sends Thursday morning.
The nonprofit is also asking those who can help distribute food to sign up to volunteer through the group's Facebook page. Residents can also make a monetary donation to the program online at ifeeltheneed.org.
Those requesting assistance through the USDA Farmers to Families Food Box program are not required to show I Feel the Need volunteers any income documentation or proof of residency to receive food boxes. .