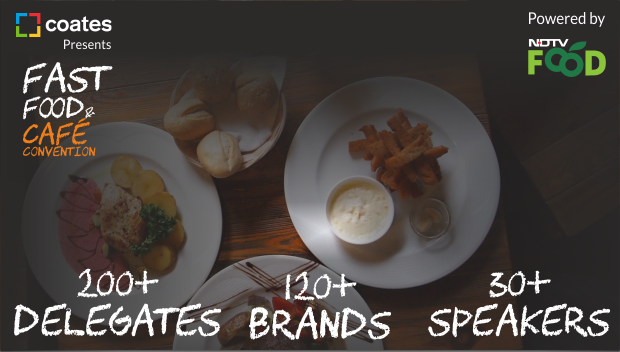 Fast Food & Cafe Convention 2017: 5 Conference Highlights
Foodies, get ready! The Fast Food & Cafe Convention 2017, organized on the 29and November 2017 at Lalit in New Delhi, offers an exciting opportunity for entrepreneurs and people who are passionate about the fast food and cafe industry. This is the very first conference organized specifically for this industry. The convention brings together food industry leaders, renowned chefs and successful restaurateurs, all under one roof and gives us the opportunity to converge and share ideas, thoughts and inspiration. There's plenty in store for cooking enthusiasts at unique sessions and expert talks. panel discussions on the concerns, opportunities and best practices of this growing industry. "Through this event, we seek to create a long-term relationship with the industry, providing a knowledge-sharing platform for international and local brands," shares Mini Jacob, co-founder of Oddbox who organizes the event. .
There are plenty of unique sessions and panel discussions you can attend. Here are five key highlights from the conference you should know about.1. The event brings together more than 200 delegates, 120 brands and 30 speakers who will share their valuable ideas.2. Food blogger Kalyan Karmakar, chef Anahita Dhody, restaurateur Keshav Suri, brand managers, marketers, start-up executives and many more will share their thoughts on the QSR industry in India, the changes positives that are happening, the role of technology and how it can all be leveraged for better growth.3. Many new topics will be covered through case studies, panel discussions and panel discussions to compare your practices with your peers and industry colleagues. The conference will map the landscape of consumer trends, from what's new and hot, to what's on the way out.4. During the roundtable and breakout sessions, you can pose focused questions to experts and leverage their experiences to address ground-level challenges in your respective roles. You can even host a one-on-one meeting that you can pre-schedule with the attendees you're most interested in.Sandeep Raghuvanshi, Managing Director India Coates Group and Adam Rush, Director of International Markets Coates Group share, "We look forward to meeting India's QSR industry leaders and showcasing our innovations. We also aim to uncover business opportunities for us from the event. Founded in 1963, Coates provides end-to-end digital merchandising solutions for Quick Service Restaurant (QSR) brands and the retail industry. tastes in mind, it paves the way for a promising future. The Fast Food & Café Convention 2017 gives us a chance to understand this changing dynamic and create more innovation in the food industry. To attend the event, you can sign up and register on their official website.
Disclosure: NDTV Food is a partner of The Fast Food & Convention 2017. However, all opinions are our own.