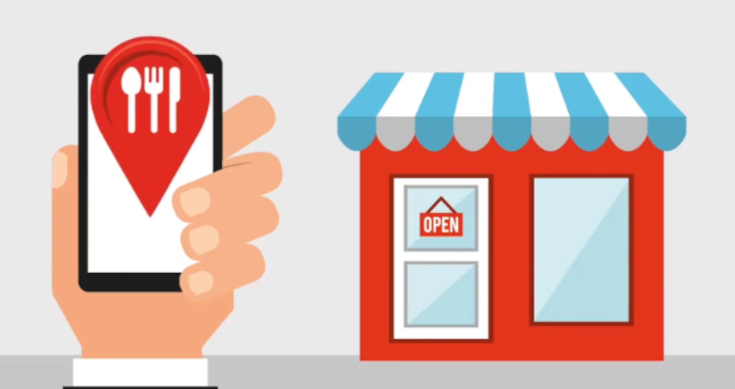 Fast and slow food – ShareCafe
by Joshua Pettman – Investment Analyst
American fast-casual restaurants Wingstop and Shake Shack have achieved very different operating results and returns on investment over their relatively short lives. The reason? Two very different approaches to selling fast food – one proving to be a clear winner for investors.
Halfway between the concepts of "full service" and "quick service restaurant" (QSR), the power of "fast casual" restaurants comes from their ability to combine experience and convenience at an affordable price. This premiumisation of fast food has attracted growing numbers of customers, with fast food concepts taking over from traditional QSRs such as McDonald's in the lower end, and table-to-table chains such as Olive Garden in the mid-range. .
Although they all fall under the same definition, fast-casual restaurants are anything but homogeneous, with concepts spanning a range of cuisines from burgers to burritos and pizza to chicken wings. The different approaches taken by different concepts can be illustrated by exploring the operations of two fast-casual restaurants: Wingstop (chicken wings) and Shake Shack (burgers).
wing stop is the largest chicken wing-focused fast-casual restaurant chain in the world, with more than 1,700 locations.[1] The restaurants are characterized by small dining rooms, Class B real estate locations, and a simple menu with cooked-to-order items. Restaurants typically have five or six fryers with a capacity of two to four fry baskets and a relatively simple kitchen layout that accommodates Wingstop's relatively simple menu. The simple nature of these in-store operations has allowed Wingstop to franchise 98% of locations while maintaining a consistent customer experience. A franchisee can expect to pay an initial investment of $400,000 to run their restaurant, and they will typically need three to five employees to handle day-to-day operations.
At the opposite, Shake Shack, a modern-day "roadside" burger stand renowned for its quality, features an urban footprint in premium real estate locations. Unlike Wingstop, the majority of Shake Shack restaurants (better known as Shacks) are company-owned. Shake Shack was developed by professionals with a background in gastronomy. This gastronomic mantra is reflected in the quality of food and experience at Shake Shack. The beef is freshly ground every night and the burgers are made to order. Therefore, Shake Shack is much more operationally complex than Wingstop and typically requires an initial investment of around US$2 million.
The differences in the nature of the foods offered and the dining occasions for which they are suitable are also important. Wings are a highly transportable product, especially when cooked fresh as Wingstop does. The meat and bone are both heated to 165°F, and during transport the hot bone continues to cook the wing from the inside, creating an evenly cooked product whether you eat it in the store or at home . Wingstop wings are often ordered online and consumed offsite, especially for major sporting events. Conversely, burgers generally do not ship well for off-site consumption. When you dine at the Shake Shack, it's often for premium burgers, and as a result, consumers usually dine to get the most out of the food.
Wingstop's offsite dining opportunity means they can keep occupancy costs low, with the model well suited to 1,600 square feet with little seating in cheap rental locations out of the way. In contrast, Shake Shack's on-site consumption means restaurants are typically around 3,500 square feet in size and located in high-cost, high-traffic locations.
Fig. 1: Interior of a Wingstop restaurant
Source: winsightmedia.com
Fig. 2: Interior of a Shake Shack restaurant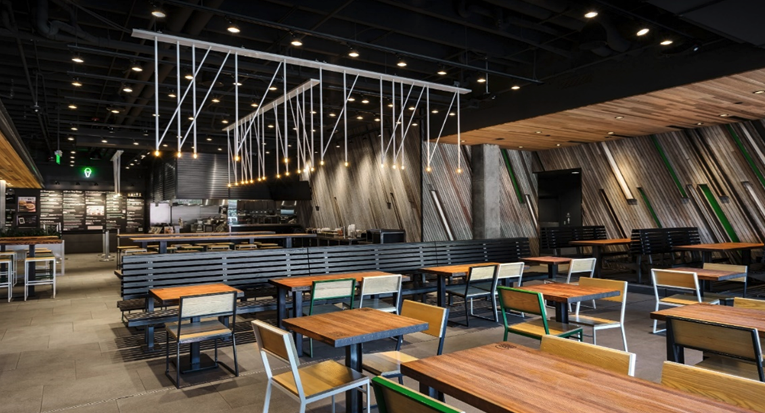 Source: metropolismag.com
Likewise, Shake Shack's complex kitchen leads to higher labor costs. Another consequence of kitchen complexity was discovered throughout the pandemic when restaurants often operated with minimal staff. Shake Shack had to reduce some of its menu offerings and prioritize the most in-demand items, removing hot dogs and hand-spun "concretes" (dense frozen creams mixed with toppings and mixes) from the menu . Wingstop stores, on the other hand, were able to maintain their full menus as their simplicity meant that even with a tighter labor market, Wingstop was able to meet the demand for their products. Shake Shack's intricate kitchen is further highlighted by the wait times experienced during the dinner and lunch rush. Typically, it only takes eight minutes to prep and cook a Shake Shack meal, far faster than the 16 minutes it takes to prep and cook Wingstop's chicken wings. However, during times of high demand, the Shake Shack order window can extend to 20-25 minutes. Comparatively, during peak periods, Wingstop can maintain its 16-minute prep time.
The biggest challenge Wingstop faces is the price volatility of chicken wings. Wings are a by-product, with supply determined by the production of chicken breasts, regardless of the dynamics of demand for chicken wings. Wings cannot be purchased on fixed price contracts and spot rates tend to be quite volatile. The company is thus investing in upstream capacity to try to reduce this volatility for franchisees.
Wingstop's simple operating model and relatively low capital expenditure (capex) resulted in a 79% annualized return on investment (ROI) for the franchisee, based on figures for the quarter ending June 30, 2022.[2] Shake Shack had a similar restaurant EBITDA[3] margin (19% vs. 20% for Wingstop) over this same period, but has to invest much more capital per unit, and therefore achieved a 36% lower annualized return on investment.[4]
Wingstop restaurants generate strong returns, allowing franchisees to constantly reinvest cash flow to drive unit growth. In 2021, existing franchisees accounted for approximately 93% of restaurant openings and, on average, each franchisee operates six restaurants. Conversely, Shake Shack has had to raise capital and dip into its cash balance to maintain unit growth targets while posting company-level annual losses in 2020 and 2021 (and expected for 2022).[5]
We demonstrated how two fast food concepts took very different approaches to selling food, resulting in varying returns on investment. Our goal as investors is to find attractive investment opportunities, and as part of this process, we seek to compare and contrast the characteristics of competing business models to determine which are most advantaged. Investors in the fast-casual space who have identified companies with advantageous characteristics have been rewarded impressively for their positioning, with a strong outperformance against the broader restaurant sector, as shown in Figure 3.
Fig. 3: Top 15 US-listed restaurants ranked by 5-year yield with dividends reinvested

Source: FactSet Research Systems, Platinum Investment Management Limited. Past performance is not a reliable indicator of future returns. As of June 30, 2022.
The Platinum International Brands Fund invests primarily in globally listed securities with well-known consumer brand names and aims to provide long-term capital growth.
DISCLAIMER: This information has been prepared by Platinum Investment Management Limited ABN 25 063 565 006, AFSL 221935, trading as Platinum Asset Management ("Platinum"). Although the information in this article has been prepared in good faith and with reasonable care, no representations or warranties, express or implied, are made as to the accuracy, adequacy or reliability of any statements, estimates, opinions or other information contained in the article. , and to the extent permitted by law, no liability is accepted by the Platinum Group companies or their directors, officers or employees for any loss or damage resulting from reliance on this information. Commentary reflects the opinions and beliefs of Platinum at the time of preparation, which are subject to change without notice. Comments may also contain forward-looking statements. These forward-looking statements were made based on Platinum's expectations and beliefs. No assurance is given that future developments will meet Platinum's expectations. Actual results could differ materially from those expected by Platinum. The information presented in this article is general information only and is not intended to be advice on financial products. It has not been prepared taking into account the investment objectives, financial situation or needs of any particular investor or class of investors, and should not be used as a basis for making decisions. investment, financial or otherwise. You should obtain professional advice before making any investment decision.
[1] Source: Wingstop Restaurants, Inc. – About Us
[2] Return on investment (ROI) is a measure of a company's profitability and the efficiency with which its capital is used. Wingstop ROI Source: Company Report.
[3] Earnings before interest, taxes, depreciation and amortization (EBITDA) is a measure of a company's operating profitability, i.e. the profits it generates in the normal course of its activities, without taking account of capital expenditures and financing costs. It is usually calculated as income minus expenses (excluding taxes, interest, depreciation and amortization). EBITDA margin is calculated as a percentage of average unit volume (AUV).
[4] Source: Company Reports, Platinum Investment Management Limited. Data at the end of June 2022.
[5] Source: Company Reports. Data at the end of June 2022.