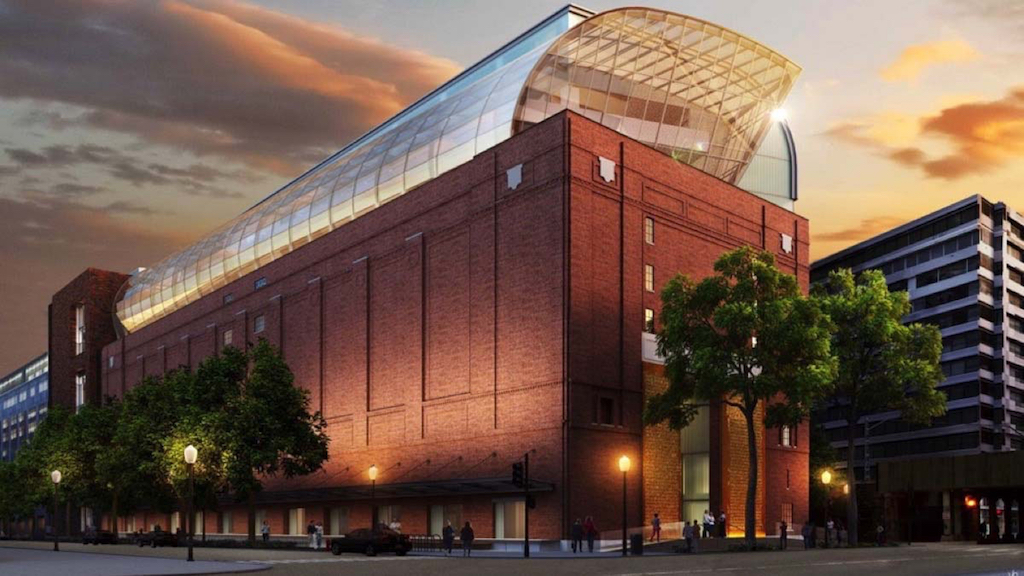 Equinox owners to open Israeli street cafe at Museum of the Bible
Exterior rendering of the eight-story, 430,000 square foot Bible Museum. Photo rendering courtesy of Smith Group JJR.
In their cookbook The New Jewish TableEquinox Owners Todd Gray and Ellen Kassoff Gray delve into the culinary intersections of his Jewish upbringing and his Episcopal upbringing. That, and the Grays' experience running a vegan cafe at the Corcoran Gallery of Art, caught the eye of an unexpected suitor: the future Museum of the Bible.
Now the couple are set to open an Israeli street cafe called Manna and a cafe named Milk & Honey inside the museum, which will replace the Washington Design Center at 409 3rd St., Southwest, when it opens in fall 2017. .
"One of the things that drew them to us was our love of cross-cultural and doing that through the food and the table and the family that goes with it and the holidays and the traditions of the holidays," says Kassoff- Grey.
Kassoff Gray expects their involvement will not be without controversy. The museum comes from the evangelical billionaire behind Hobby Lobby, who has become a political lightning rod for his Supreme Court case on contraception and Obamacare.
"When I first saw the plans, I was like, 'Huh? What? Oh good? Are you serious? says Gray. But after getting to know the museum better, he felt it was a good choice. "It's not Christian. It's not run by Jews. It is a historic journey. So these are things that are of great interest to us.
Kassoff Gray adds, "There's a lot of history in the Bible, and we love its educational pursuit. This is the number one factor in doing this.
The Grays learned a lot about historical dishes and Bible-related foods while researching The New Jewish Table. Kassoff Gray also spent a few years on and off in her twenties in Israel, where she lived on a kibbutz, worked on a scuba diving boat, wrote about wine, and witnessed the first Intifada. This is also where she first started cooking.
Manna will be a cafeteria-style restaurant with different stations in an "Israeli-Mediterranean street food market-like spirit," says Gray. Of course, the café will serve falafel, which will be made with seasonally changing ingredients like green garlic, sugar snap peas or roasted kabocha squash. To accompany, Gray also offers a recipe for hummus with pistachio and golden lentils.
Manna will have flatbreads — perhaps topped with figs and nuts — as well as cereal bowls and stews. Gray also toyed with artichoke soup and cumin-cilantro tomato bisque topped with mint-lime yogurt. Although the menu is rich in vegetables, there will also be roast leg of lamb and probably fish.
The coffee will be accompanied by a 70-seat cafe upstairs called Milk & Honey. In addition to cappuccinos, lattes and tea, the place will offer to-go sandwiches, salads, hummus with pita chips and Italian-style yogurt.
The Grays will also provide catering for events at the museum.
"Like the Corcoran, we loved – for the four years we were there – having the food juxtaposed with the art. This [brings] just a much more cerebral context to things," says Kassoff Gray. "We were cooking food that went with the exhibits…so it will be the same with the Bible Museum."