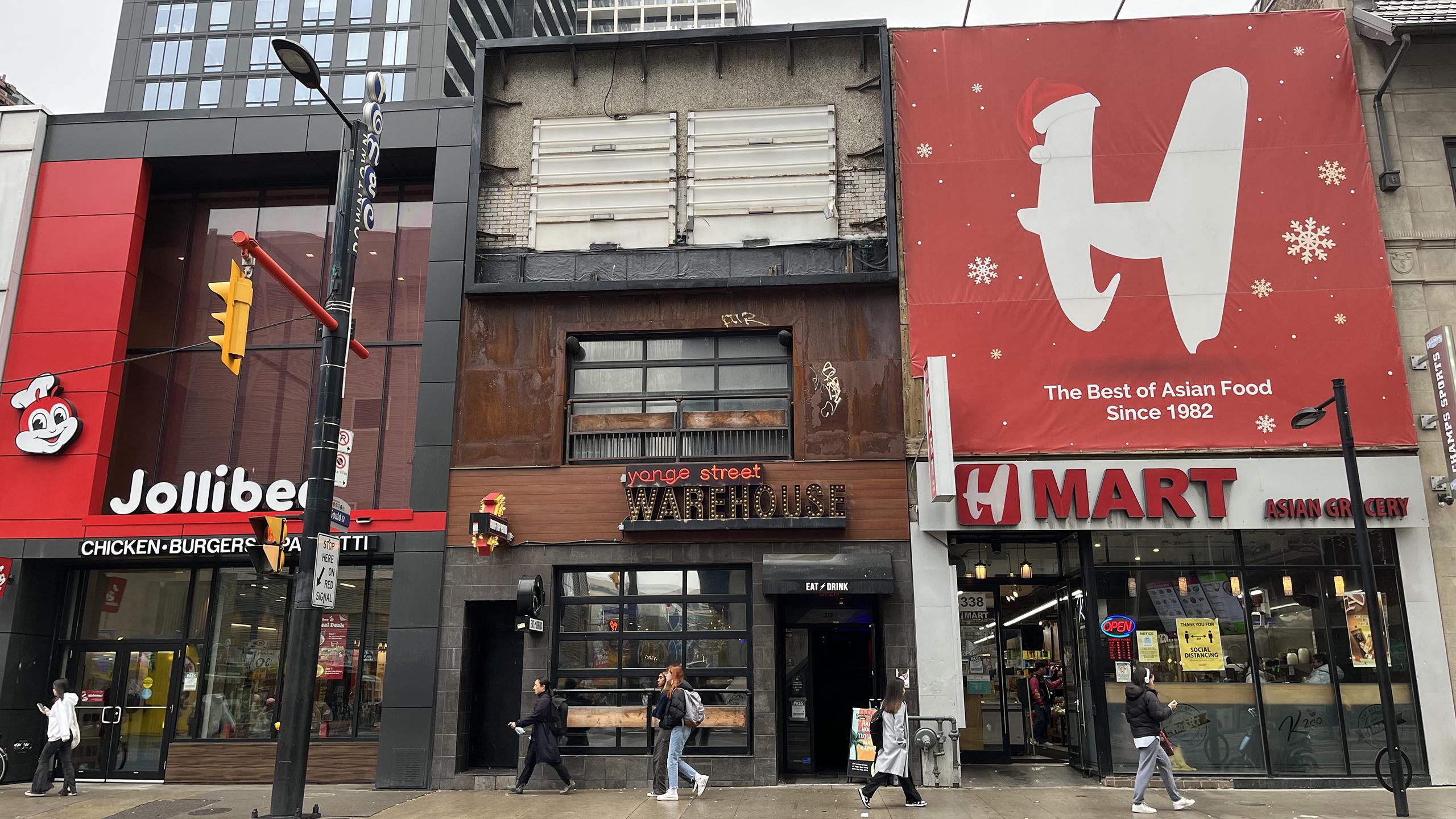 Campus restaurants and fast food businesses compete for student loyalty
Reading time: 3 minutes
By Ankit Choudhary and Christina Flores-Chan
For second-year computer engineering student Behzaad Pathan, Chachu's tandoori chicken roll is his favorite on-campus food order for a bite to eat with friends between or after class.
Tucked away on Bond Street, a side street of Gould between campus café Balzac's and Toronto Metropolitan University's (TMU) must-visit brunch Oakham Cafe, Chachu's acts as a hole in the wall for students.
In warm weather, the restaurant does barbecues on its terrace, allowing students to smell the cozy, seasoned and spicy Pakistani street food that, for some students, feels a bit like home.
Behzaad said he usually goes with a friend and Chachu's offers a $25 combo for two that includes a bowl, two wraps and two sodas, making the restaurant a good option for students to hang out and socialize.
"The taste is quite good and their customer service is also very nice," he added.
"By targeting everyone, you are targeting no one"
Chachu's, which opened shortly before the fall 2022 term, is just one of many dining options students can choose from, on or near campus. These establishments include competing cafes to restaurants along Yonge Street, such as Yonge Street Warehouse or Salad King.
These restaurants compete daily to satisfy student appetites and keep their lights on, and they use targeted business strategies to achieve this.
Matthew Philp, assistant professor of marketing at TMU's Ted Rogers School of Management, said restaurant owners should have confidence in how they position and differentiate themselves in order to stand out and not just attract but retain. the clientele.
He added that a company's positioning can include consideration of product pricing, combo options, dietary concerns and student-focused offerings, as well as the quality of their food.
"What I always say in my classes is you can't target everyone," Philp said. "You have to choose a path. By targeting everyone, you are targeting no one.
"Since the campus reopened, I think I'm the happiest man in the world"
Salar Hussein, the owner of the Chachu location near TMU, said he focused on three factors when opening in a location close to campus: affordability, taste and cooking pace. . He added that the staff at Chachu is young, which he says makes it easier for students to connect with them.
Hussein also mentioned that he was excited about the increased traffic on campus since the return to full-time classes after the pandemic.
"Since campus reopened, I think I've been the happiest man in the world," he said. "It's very nice to see the campus full."
Emma Panacci is a freshman biomedical engineering student at TMU who enjoys a regular cup of coffee at Oakham Cafe.
She said their schedules fit well with her school schedule, and Oakham's central location on campus allows for easy access for students in and out of class. "Their prices are also quite reasonable," she said.
Say Bagni, an Oakham Cafe barista and sophomore photography student, said the cafe prides itself on being student-friendly.
"Oakham is significantly cheaper than most downtown cafes and we cater to students and their needs," Bagni said. "For example, we don't charge for milk substitutes like elsewhere, because it's very common for people not to consume dairy milk."
Bagni added that the cafe's menu options are also tailored to students' tastes and dietary restrictions, packing decent portions per meal.
"The special gets you a full breakfast for less than seven dollars"
The special student loan, one of Bagni's recommendations, is priced at $6.59 and offers the option of scrambled eggs with a tofu alternative, with roasted tomatoes and home fries on white toast or wheat. Protein supplements also include bacon, chicken bacon, or Beyond Meat.
"The special gets you a full breakfast for less than seven dollars, and our vegan options are suitable for many students," Bagni added.
While budget plays a role in students' dietary decisions, Panacci said another reason she studies at Oakham is the cafe's cozy and aesthetic atmosphere. The newly renovated cafe has natural light, accent exposed brick walls, and potted plants scattered throughout the property.
"Students will also wonder if the restaurant is somewhere they want to hang out," Philp said, adding that when consumers develop an emotional connection to the space, it gives them a reason to come back.
Philp said that ultimately success is about determining consumer wants and needs. Whether it's a place with a great vibe and great music or a quick and easy snack before class, businesses need to embrace and own their customer base.
"The good thing for students is that they have many options on campus," he added. "With each bringing something different to the table."
Related