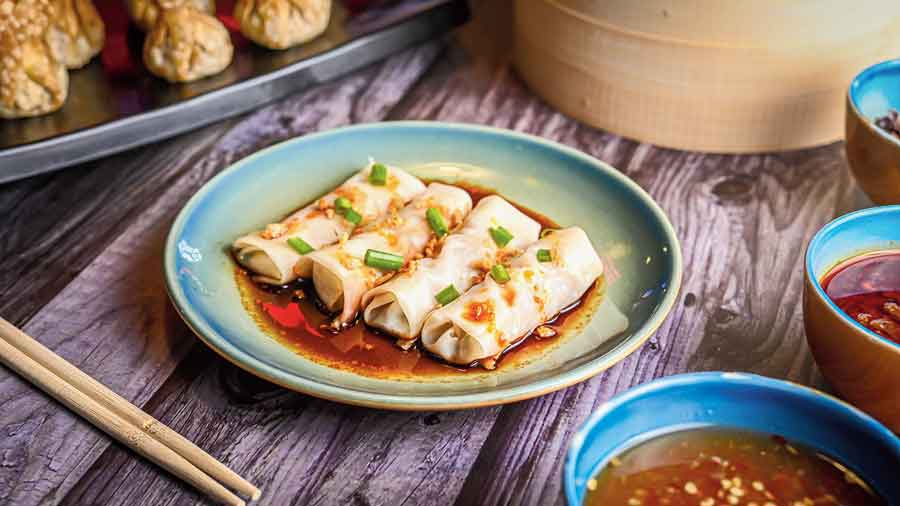 Asian food! Asia! Asia – Street BBQ and Buffet hosts a dim sum festival in Sector V
With winter igniting its cool charm, now is the perfect time to start a meal with hot dumplings straight out of the fumes. And if you're ready to try a variety, head to Asia! Asia! Asia – Street barbecue and buffet in Sector V.
The South Asian-themed restaurant, which opened a few months ago, celebrates the flavors of these countries with a month-long dim sum festival, starting December 20.
The restaurant is located above Rang de Basanti dhaba and focuses on street food from eight countries – Thailand, Japan, Indonesia, China, Vietnam, Singapore, South Korea, and Malaysia.
The decor and ambiance also add to the street theme.
The special festive menu has a variety of dumplings, a few of which are their popular dishes – cream cheese dumpling (steamed potato starch dumplings filled with cream cheese), seafood dumpling (a mixture of finely chopped fish, squid and shrimp filled with dumplings) and steam roasted pork bao (with a stuffing of oven-roasted marinated pork that's stuffed into a yeast-leavened dough and steamed ).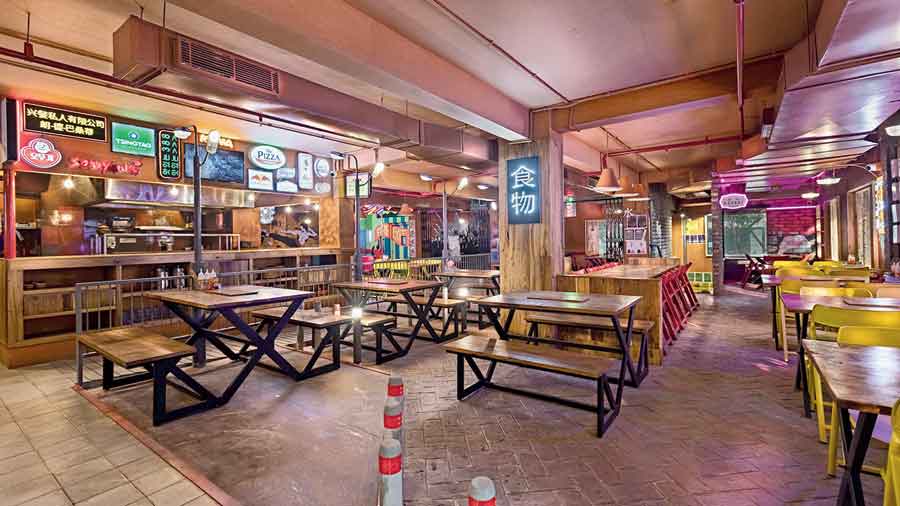 A view of Asia's dining room! Asia! Asia! Street BBQ and buffet in Sector V.
"Dimsum is a staple Asian food and every country in Asia has a tradition of dimsum. They might have different names – dumpling or dimsum or momo or sui mai or gyoza – but ultimately it's some kind of protein inside an envelope. They are an integral part of the whole Asian experience, so we wanted to organize a festival dedicated to them, "said Abhimanyu Maheshwari, Founder and CEO of Zing Restaurants, of which AAA is a part.
This dim sum festival is part of their Table Grill Buffet menu. The all-you-can-eat grill buffet menu includes robatayaki skewers, steamed dimsums and baos, stir-fries and golden fries, a main course, desserts, and a free Raaamune (a soft Japanese drink).
From Monday to Thursday, the vegetarian table grill buffet costs Rs 735 while the non-vegetarian buffet costs Rs 840. The respective weekend fees are Rs 788 and Rs 893 respectively.
They also added new preparations to the festival menu. From the vegetarian selection there are the Thai Golden Sacks. It is a wonton mix of Thai flavored mixed vegetables that are wrapped in potli shaped wonton leaves and deep fried. It is served with a sweet pepper sauce.
A non-vegetarian addition is the Spicy Soy Chicken Roll, in which raw chicken marinated in garlic, onion, and herbs is rolled in cigar-shaped wonton leaves and steamed. These roulades are garnished with a spicy soy sauce.
The dessert section also has an addition of chocolate dimsum.
"This festival allows people to get to know the different varieties of dumplings available and to try them. Usually we could only offer selected dumpling items, but this festival will allow us to present a variety of them. We will keep the flavors sweet but at the same time they will be predominant. We will incorporate flavors like kafir lime, basil and black beans, "said Chef Somir Das.
The restaurant was initially opened in March but had to be closed due to the lockdown. It was reopened in July.
"These are uncertain times. We don't know what's going to happen next month, so there's no right or wrong time to start. We had planned this restaurant before the pandemic but had to postpone that. The moment we started working on and opening it again, the second wave of Covid hit us. So we just have to keep going, "said Maheshwari.