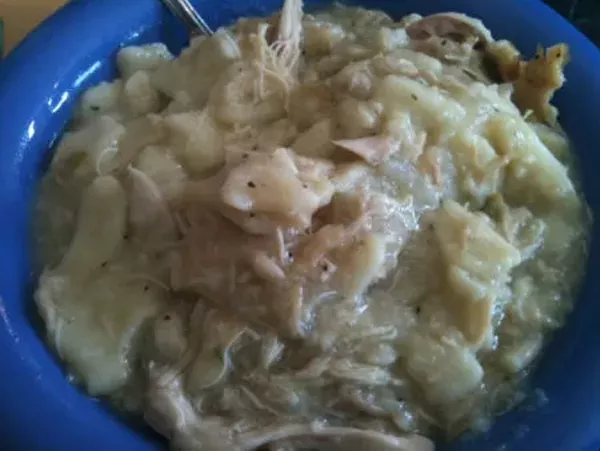 # 91: Chicken and Dumplings at Yummies Soul Food Cafe
Few foods epitomize comfort like the combination of long simmered chicken and the resulting broth loaded with hand-made dough creations, be it matzoh dumplings, noodles, or dumplings. It is the food we use for comfort when we are sick and again when junk food and alcohol do not cure our ailments.
AT Café of soul delicacies, they've elevated the southern version of this heartwarming classic to decadence with their chicken and meatballs.
It's not soup. Real chicken and meatballs never are. Instead, it's an explosion of pure chicken flavor that only comes from cooking a whole chicken for a really long time. Don't worry if you find some chicken bone or cartilage in the chicken and meatballs. It just means that nothing in the bowl has ever spent time in a box. What remains is a rich, concentrated flavor that permeates all aspects of the dish.
Tender chicken tears with the touch of a spoon, but handmade meatballs don't. They manage to be substantial without being hard or mushy. With just the right amount of yield to the tooth and a pinch of black pepper mixed in with the batter, the meatballs lighten the weight of the chicken's richness.
Add the overall warmth of the dish along with the balance of richness and light, and the resulting effect can make you think all is well with the world. At least for a little while.
Since last year, RFT Food critic Ian Froeb has counted – in no particular order – 100 of his favorite dishes in Saint-Louis. Now Gut Check has picked up where it left off. Check back frequently as we break down our 100 favorites, and feel free to send us yours, either via the comment thread or at [email protected].
Previously:
# 92: Cuban Sandwich from La Tropicana # 93: Prosperity at Ruma's Deli # 94: Cheese and Cherry Danish from Missouri Baking Company # 95: Bread Pudding with Whiskey Sauce at Ruth's Chris Steakhouse # 96: Salad Sandwich d'œeuf chez Township Grocer # 97: Cheeseburger and Fries (Extra Crispy) at O'Connell's Pub # 98 Moules & Fries at Brasserie by Niche # 99: Beef Taquitos Mexicanos at El Indio # 100: Epinard Artichaut Dip at Cafe Eau